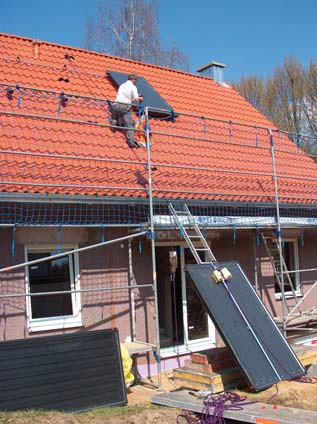 The Government of India needs to do much more if domestic manufacturing of PV cells and other solar power components is to take off earnestly. Bhupesh Verma, Vaishalee Dash and Dr. Sharath Rao of the Center for Study of Science, Technology and Policy (CSTEP) suggest ways of doing that
The Indian solar industry has grown leaps and bounds in the last five years. The Jawaharlal Nehru National Solar Mission (JNNSM) introduced in 2010 played an important role in this development. The installed photovoltaic (PV) capacity increased from a mere 46 MW in 2010 to 3,700MW in May 2015. With the advent of the solar boom, the PV manufacturing industry has invested a large amount of capital in setting up manufacturing lines to cater to the local demand. The current annual domestic cell and module manufacturing capacities stand close to 1,400 MW and 2,800 MW respectively. The bulk, if not all, of the cell and module manufacturing in India is based on crystalline Silicon (c-Si) technology.
JNNSM, which has been conceived to be realised in three phases, mandates the use of locally manufactured solar cells and modules by engaging the government's Domestic Content Requirement (DCR) stipulation. This was evident in Phase I and Phase II bidding guidelines. Even in the recently released Phase II Batch II Tranche I draft guidelines, 25% of the targets have been kept for bidding under DCR. Despite this, lower-priced imported modules from China and the US, armed with better financial offerings, have hampered the business of domestic PV manufacturers' module. As a result, till the middle of last year, around 80% of cell and 50% of manufacturing capacities were lying idle. The situation has improved since then.
Challenges
A host of challenges affect the domestic PV manufacturing industry. Firstly, the Indian PV industry is mostly dependent on the import of critical raw materials and components such as silicon wafers, Ethylene Vinyl Acetate, Polymers (Polyvinyl Fluoride – Tedlar, Polyethylene Terephthalate – Mylar).
Secondly, despite the surplus availability of polysilicon (the ingredient from which Silicon wafers are derived) across the globe, which has seen a record low price of $16-18 per kg, the industry is dominated by a few players. In 2013, five vendors were responsible for 81% of the annual global polysilicon production (215,000 metric tonnes). Thus, market manipulation, is a possibility and a cause for concern as it could disrupt supply in the future.
Thirdly, there is a dearth of skilled labour which makes the survival and competitiveness of the industry doubtful. In addition, the high cost of debt/capital and higher cost of electricity and its unreliability compel manufacturers to maintain a diesel back-up. With rapid advances in cell-making technology worldwide, Indian manufacturers are finding it difficult to keep pace with their global counterparts. Also, domestic manufacturers lack the inclination and funds to pursue R&D activities.
Way Forward
A study by the Center for Study of Science, Technology and Policy (CSTEP) analysing the solar manufacturing supply chain in India showed that c-Si cells constitute more than 55% of the module cost and the Balance of Module(BOM) – PV Glass, Encapsulant, Backsheet, Tabbing Ribbon, Junction Box and others comprise about 25%. However, the study also revealed the presence of a robust BOM industry in the country. The study identified a few critical components and developed an 'import vs. indigenise' strategy for the PV industry (c-Si based technology). The study recommends that BOM components be locally manufactured in the short term (next 3-4 years) while continuing to both import and indigenously manufacture c-Si cells. This will strengthen the current manufacturing capacity, making it competitive in the international market.
To support the domestic PV industry, the Government has also declared a number of measures. The 'National Manufacturing Policy'announced in 2011 was merged with the 'Make in India' initiative launched in 2014 and a host of incentives were announced specifically for PV module and BOM manufacturers. Exemption from custom and excise duty comprised the bulk of incentives. The exemptions were also extended to equipment purchased for manufacturing the aforementioned components.
In addition, under the Modified Special Incentive Package Scheme (M-SIPS), announced by the Department of Electronics and Information Technology (DeitY), 20% and 25% subsidy on capital expenditure has been announced for entities establishing cell and module lines in Special Economic Zones (SEZ) and Non-SEZs, respectively. Reimbursement of excise duty and countervailing duty is also applicable for capital equipment purchased for Non-SEZ units. Further, for high technology units, such as fabrication units (wafer manufacturing facility), reimbursement of central taxes and duties have also been provided.
With the recent enhancement of the JNNSM targets to 100,000MW, the National Thermal Power Corporation (NTPC), the largest owner of thermal power plants in India, has announced that it will build solar plants exclusively with Indian-made cells and modules. Further, solar projects taken up by the Indian Army, Railways and other public sector enterprises (including NTPC) will be subsidised by INR 1 crore for each MW of capacity, only if they source cells and modules from domestic manufacturers.
The Government has encouraged each of these public sector companies to install 1,000 MW solar PV projects. This will ensure that the PV manufacturing industries operate their full present capacities and add more production lines in the future. On these lines, Bharat Heavy Electricals Limited (BHEL) has proposed to set up Rs. 3,000 crore silicon wafer manufacturing facility in Sakoli (Bhandara District), Maharashtra and is currently awaiting funds from the National Clean Energy Fund.
What More?
The Government can and should do more. Facilitating access to low cost and longer tenure finance for the manufacturers is a must. There should be adequate incentives towards R&D and commercialisation of novel technologies to support polysilicon and cell manufacturing. The Government should also support large-scale pilot projects engaging the 'High pressure Fluidised Bed Reactor (FBR)' or 'Trichloro Silane (Hydrochlorination Process)-Siemens' technology to manufacture polysilicon. Research onP-type Monocrystalline Passivated Emitter Rear Contact (PERC) Silicon cells, Multicrystalline Passivated Emitter RCT (PERCT) technology and N-type Mono crystalline Silicon cells should be financed and encouraged via public-private cooperation.
Additional support to the development of manufacturing clusters with fully integrated manufacturing plants and skill building facilities are some of the policy levers that can lead to a robust PV manufacturing industry in India. The Government's plan to train and create a skilled workforce under the National Skill Development Mission (NSDM) is a great initiative which could help transform and take the solar sector to greater heights.
The 'sun can truly shine' on India's domestic PV manufacturing sector if the challenges are addressed and these different mechanisms are implemented in unison.