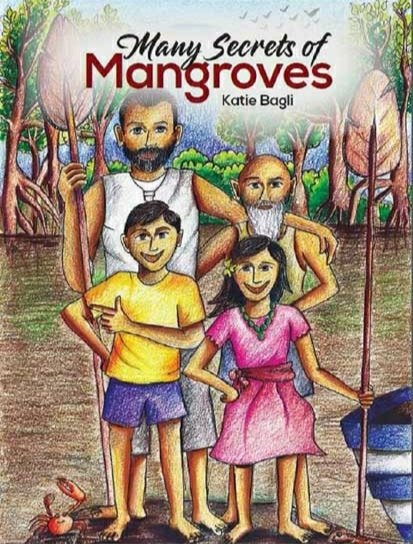 Godrej & Boyce, the flagship company of the Godrej Group, announced the launch of the Marathi version of the story book "Many Secrets of Mangroves". This is the first ever story book on mangroves and was first published in English in 2019 in collaboration with celebrated children's author Katie Bagli. The Marathi e-version, named 'करामती खारफुटी' is also the first time a Marathi story book has been dedicated to the marvelous and delicate mangroves ecosystem.
This book is just one of the many initiatives by Godrej & Boyce to spread awareness about the significance of the mangroves ecosystem. The goal of translating the book into Marathi is to educate more children on the vital role that the mangroves play in conserving and maintaining the ecological balance.
The e-version of the book is accessible, both in English and Marathi, on the Godrej Mangroves website, the only website of its kind dedicated to the mangroves.
Speaking about the Marathi book launch Dr. Pheroza Godrej, Art-historian, environmentalist and writer said, "At Godrej, our goal is to educate the community on the role of mangroves as an indispensable asset to the environment. We are confident that this new release will aid our efforts of spreading the message of conservation about this delicate yet important ecosystem."
Over the last few decades, Godrej & Boyce has been actively managing and conserving one of the largest mangroves in Mumbai at Vikhroli. The company launched the Mangroves Mobile App available in 11 languages, opened a dedicated mangroves website in Marathi, organizes exhibitions across educational institutions in Mumbai. Along with WWF India, the company launched the Magical Mangroves Campaignin 8 states.
Godrej Mangroves
The Godrej mangroves at Vikhroli extend their silent ecosystem services much beyond their boundaries to the entire Mumbai Metropolitan Region. A two-year research study revealed that the standing stock, with its biomass and sediments, holds 6 lakh tonnes equivalent of carbon dioxide – a key greenhouse gas responsible for global warming and climate change.
Additionally, around 60,000 equivalent tonnes of carbon dioxide is sequestered every year. Besides land stabilisation, the mangrove ecosystem plays a vital role in natural cycles and nutrient recycling thereby maintaining the environment balance.
Godrej & Boyce ('G&B'), a Godrej Group company, was founded in 1897, and has contributed to India's journey of self-reliance through manufacturing. G&B patented the world's first springless lock and since then, has diversified into 14 businesses across various sectors.
To read the Marathi e-version, click https://mangroves.godrej.com/Resources/pdf/Mangroves_marathi_book.pdf
To read the English e-version, click https://mangroves.godrej.com/resources/pdf/TwoPageBook.pdf
To know more about Godrej's conservation efforts, visit www.mangroves.godrej.com