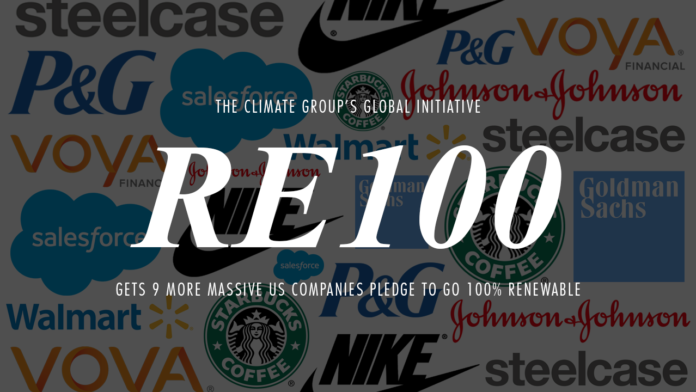 Goldman Sachs, Johnson & Johnson, NIKE, Inc., Procter & Gamble, Salesforce, Starbucks, Steelcase, Voya Financial, and Walmart are the latest group to join RE100, pledging to source 100% of their electricity from renewable energy to reduce CO2 emissions and seize the business benefits.
RE 100 is an ambitious global campaign led by The Climate Group in partnership with CDF, to engage, support and showcase influential businesses committed to 100% renewable electricity.
Momentum behind RE100 has also grown globally in the last year. When RE100 was launched one year ago at Climate Week NYC 2014, there were 13 original corporate partners – IKEA Group, Swiss Re, BT Group, Formula E, H&M, KPN, Nestlé, Philips, RELX Group, J. Safra Sarasin, Unilever and YOOX Group – as well as Mars, Incorporated, the first US business on board.

Now 36 major businesses from around the world have joined the campaign, with green desert economy developer Elion Resources Group becoming the first Chinese company in March 2015, followed in May by the first Indian company Information Technology leader Infosys.
Many of the companies making RE100 commitments have also supported the Corporate Renewable Energy Buyers Principles, an initiative of WWF and the World Resources Institute (WRI), which seeks to make it easier for companies to buy renewable energy.