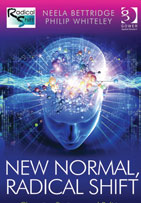 By Neela Bettridge and Philip Whiteley Gower publications, 2013
Our traditional ways of looking at economics, business and politics are not fit for purpose. The causes of the recent crisis were behavioral and international, but our measures are superficial and financial, recorded at a national or company level. This is combined with a fervent quest for endless 'growth', no matter how unsustainable.
Theory has to catch up with reality. Many books chart different courses for economic and business management but New Normal, Radical Shift is different. Using examples from international organizations around the world, it analyses not only the business model that failed, but challenges wider economic and political beliefs that employees' interests always conflict with those of managers and business owners.
Neela Bettridge and Philip Whiteley argue that the right messages about good practice in business struggle to be heard, not because of indifference or inertia, but because dysfunctional philosophies are still supported not only within business and business schools, but also within political circles and by trade unions, NGOs and others campaigning for workers' rights.
The central belief of the 'old normal' is that profits are made by exploiting workers and the environment. In this book the authors' arguments – all supported by exemplary case studies -demonstrate that this belief is false, opening up enormous possibilities in a 'new normal' of enhanced working lives, environmental protection and business success.