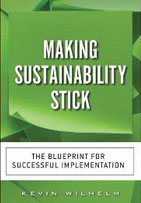 By Kevin Wilheim FT Press, 2014
This book provides the blueprint for implementation, breaking down barriers, and the steps required to integrate sustainability successfully into any business. It is laid out in easily digestible chapters, with action steps backed up from interviews with sustainability thought leaders, case studies, and the real life experience of the author, as well as over 40 interviews with CSR and Sustainability Directors at various companies on how to "get things done" based on their successes and temporary setbacks.
It provides the step-by-step roadmap for implementing sustainability successfully and focuses on "how" companies can realize the benefits of sustainability by engaging the head, heart, and hands of their employees. Also included is a checklist for implementation and tips on how to regain momentum or get "un-stuck" at the end of each chapter as well as additional helpful resources and exercises to overcome the most common barriers towards implementation.