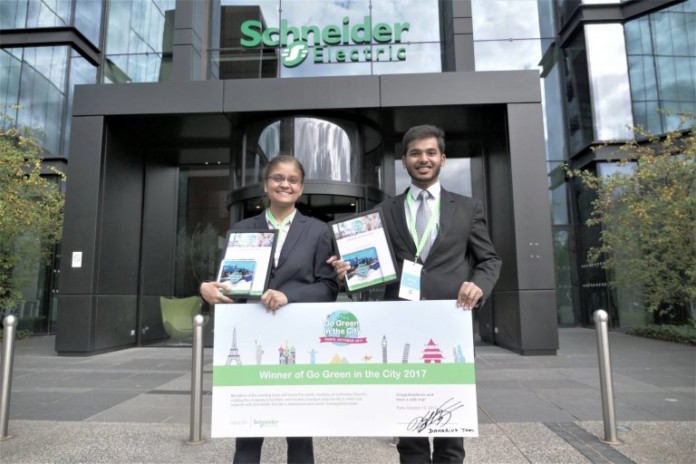 Nimisha Gupta recount their whirlwind and memorable stream of events through 2017, as she and her partner, Raja Jain won the global competition.
While cursorily screening our College's digital Notice Board on one of the days, I saw a colorful notice with a link, this notice immediately caught my eye. It read "Go Green in the City 2017 – Think Big. Think Green. Think Schneider Electric". Considering the current energy crisis, the world is ensnared into and being cognizant of Schneider Electric's belief that 'Access to energy is a Basic human right', I thought that it would be something interesting.
I delved more and found that, Go Green in the city is Schneider Electric's flagship sustainability themed event for students at college. This competition is not just organization's effort towards fostering innovation amongst students but also is a reinforcement of their commitment to Gender Diversity, it was difficult to believe that a pre-requisite to partake the competition was that at-least one of the two team members must be a female. Ever since, my life has not been the same.
The Competition and Inception of the Idea
My team mate 'Raja' and myself registered for the competition in February, 2017. We had to submit 300 words extract on the idea we would work upon. We named it 'EvaCool' which derives its name from evaporative cooling. We have used ancient Indian earthenware technologies to drop the temperature of air. The organizing team kept us engaged through various contest and quizzes they were conducting online on the GGITC website.
Structuring the Idea along with the assigned Mentor
The actual development of the idea to a full-fledged product begun during the Semi Finals. Schneider Electric allotted a mentor to every semi-finalist during this phase. Our mentor was Alexey Kashaev, Vice President – Eco-Building in Russia and CIS. He refined our idea, reviewed our documents and most importantly, motivated us to do better every day.
The Big news came; we were selected as one of the 12 Global Finalists for Go Green in the City 2017 out of 20000+ registrants. We were going to represent India at the finals. And yes, we were going to PARIS!
Business Case Development Phase
Alexey continued to guide us as he brought various incisive business perspectives to our product. While we were preparing for this, Schneider Electric India organized a Campus Ambassador program 'Campus Ace'. The organization had chosen an ambassador each from all of their partner colleges and had invited all of them for an event at Gurgaon. We received a call from the university hiring team, they invited us to this event and gave us an opportunity to present our solution in front of organization's leaders and students of different colleges.
We emerged as winners of 'Go Green in the City 2017'. We wanted someone to pinch us to believe that it was not a dream. This was absolutely beyond our imagination when we started this voyage but then 'We Had Done It'!