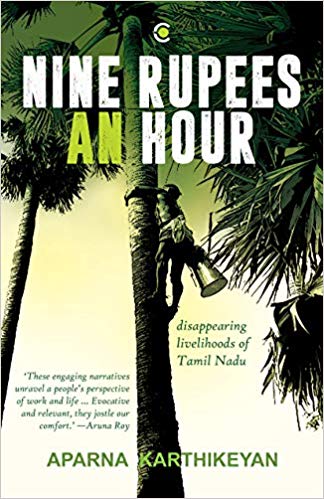 Nine Rupees an Hour is a critical portrayal of the drastic and systematic erosion of traditional livelihoods in Tamil Nadu. This is more or less the case across India.
Endorsing this book, Aruna Roy, well-known social activist, says this: "In a rapidly urbanizing nation, rural India is being erased from the popular imagination. Through her five years of travelling across the villages of Tamil Nadu, Aparna Karthikeyan gets to know men and women who do exceptional—yet perfectly ordinary—things to earn a living.
She documents, through ten of these stories, the transformations, aspirations and disruptions of the last twenty-five years. The people she meets force these questions of her, and her reader: What is the culture we seek to preserve? What will become of food security without farmers? How can 'development' exclude 833 million people?"
These engaging narratives unravel a peoples' perspective of work and life, where creative beauty and human dignity merge to matter, even if their worth in market-obsessed economics is merely nine rupees an hour. Evocative and relevant, they jostle our comfort. Statistics and economic analyses of wages and work, juxtaposed with the lives people lead, help us understand the situation on the ground.
The book includes interviews with famous author of 'Everyone Loves a Drought' P. Sainath, musician-author T.M. Krishna and others.
About the Author
Aparna Karthikeyan is a storyteller and an independent journalist. She volunteers for the People's Archive of Rural India (PARI) and has written for them, as well as for The Hindu, The Caravan, The Wire, Scroll.in and other publications on culture, books and livelihoods. She has authored books for children, and published short fiction.