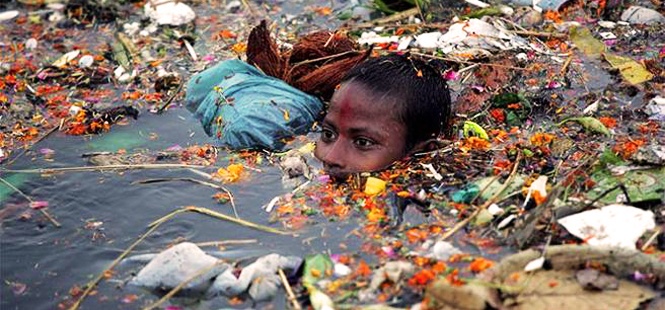 Go Massive, an ambitious initiative of a group of venture capitalists, to back start-ups with $150 million fund. It's a coalition to take advantage of $15 trillion pollution reduction opportunity
Why are 14 of the world's 15 most polluted cities in India? Why are most of our rivers, including the Ganga and Yamuna, so dirty that no one is advised to take a dip in them? Why are lakes in India used to dump sewage from high rise homes? Why are pollution control boards toothless? Why are Indian citizens so tolerant to such abysmal conditions?
People have been asking these questions for many years and there's been no reasonable action to find solution to these questions. Even when attempts are made, they are backed with under-funding, poor science and an unaccountable governance process.
Someone has to stand up and show courage and vision to find solutions to seemingly intractable Indian problems. That's what a bunch of venture capitalists and angel investors have done when they announced a wildly ambitious initiative called 'Go Massive' in June 2018.
Go Massive will build an incubator network to build innovative startups focused on solving big problems in the areas of clean energy, energy storage, clean mobility, clean air, water and land pollution. It also includes plastics alternatives, recycling, green cities, built environment, and clean food and forests.
Leaders at Go Massive don't want to stop at only funding startups but to help them build companies. "We understand that startups in these sectors don't just require funds but also an effective ecosystem comprising of access to world-class research labs and technology, linkages with large corporate houses and collaboration at the highest level of Governments & Policy."
Go Massive has already signed MoUs with premier technology & research institutes including Indian Institute of Technology, Delhi, Indian Institute of Management, Lucknow, National Research & Development Corporation (NRDC), Central Electronics Engineering Research Institute, Pilani, G.B. Pant University and others.
Go Massive is a stage agnostic, sector focused, deep science fund targeting large problems being faced by humanity. The Fund aims to bring scale and disruption of venture capital industry to core science / engineering fields.
Go Massive organized 'Massive Earth Summit' in Delhi early June 2018. It sees itself as India's first grand coalition where private sector is joining forces with policy makers to fund solutions for climate change.
Team
Animesh Srivastava, Joy Sharma, Shailesh Vickram Singh & Sudhir Kamath
Advisory Board
Anand Lunia, Nipun Sahni, Paula Mariwala and Vijay Shekhar Sharma
www.gomassive.in