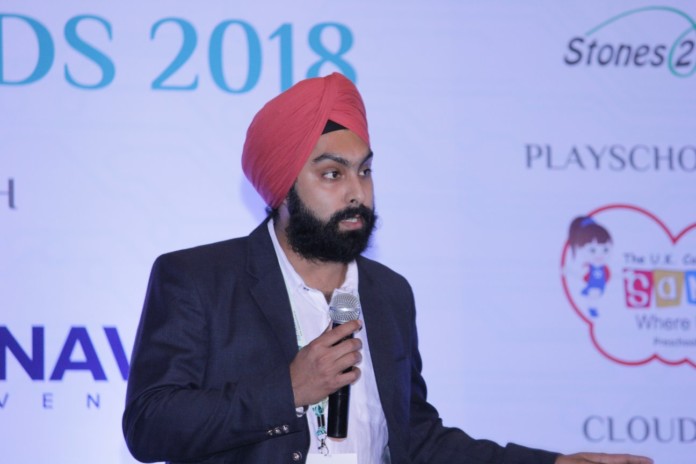 Gurji Kochar's startup TakeUp.in is turning into a match maker. It is matching the needs of students, colleges and businesses by bringing them onto a common platform. Just in a year, 600+ projects are live, 8900+ colleges listed, 40+ colleges onboarded and 1,50,000+ students registered.
India's massive unemployment, employability, poor record of innovation and many other ills stem from poor linkage between business needs, students' lack of exposure to real-world problems and faculty that is less motivated to stay up-to-date. There are pockets of excellence, but big problems need bigger solutions. Entrepreneurship and technology seem to have come to the rescue.
Excepts of a chat between Gurji Kochar and Benedict Paramanand, Editor of www.sustainabilitynext.in
What is a live project?
Any kind of work that employer wants to get done whether it is building a new software, or testing their existing products, generating new leads for them or doing market research.
It helps students build stronger profiles which include recommendation from employers on whose projects they have worked on.
It offers diversity in skill-sets which is highly valuable.
Less impact on studies since most projects can be done from hostel/home.
They result in higher discoverability of students with capability and experience.
How is it better from an internship?
Internships are mostly in single domain and results/output from that is not clear.
Moreover, they don't make students distinguish themselves in the job market.
How does your platform work?
Employer posts projects to institutes.
College administration disseminates the information amongst students.
Engagement begins by students applying on the project.
Information/analytics are available on the college dashboard about which students are applying on which project.
Students earn letter of recommendation and endorsements by completing projects.
What is the role of colleges in this?
It's the responsibility of the college to make students aware of these opportunities.
Make sure students are completing the projects and mentor them
Award credits for completing industry projects
What's in it for colleges?
Improved skills of their students hence improved placement chances
Better job offers from companies
Chance for tier two colleges to work with big brands
Build reputation by showcasing students' talent to industry
College listing shows active students of each college and their project completion percentage. This is good for reputation of colleges
We are coming up with industry reputation ranking based on number of projects that each college completes. The List will be released state wise and nationally for projects of different categories
Why would companies post projects on your platform?
It helps with their brand outreach
Could result in fresh ideas and better process optimization
Enables companies hire skilled workforce. It helps to be certain of students' skills even before hiring resulting in higher engagement and retention.
Examples of the projects already completed
Travel website Crawler of KPMG
Design project by Monte Carlo
Consumer awareness about no cost EMI by Bajaj Finserv
Sulekha wanted students to find out issues in their website
Blueprint to improve search engine ranking My Pustak
Evaluating and recruiting candidates for Digilep
How is it funded?
We are bootstrapping now. Will be ready to raise funds any time soon.
What's the revenue model?
Universities pay for listing. We are expecting companies to pay for our services once we demonstrate our impact.
About Gurji Kochar
Age 27, born and grew up in Jalandhar, Punjab. Founded TakeUp.in October 2017.
We got the idea from healthcare portal Practo. How it's making healthcare accessible to all, we wanted to make opportunities accessible to all colleges and students. Our premise is 'if talent is distributed evenly, why opportunities shouldn't be the same'. We are democratizing opportunities for all.
Graduated from Thapar University (BE electronics and communication) in 2013
Got into product management because I figured something early in my career that I really love building products that customers love to use, I love giving them that delight.
I love seeing the product from strategy to concept to design then development, marketing, launch, feedback, growth.
Early Entrepreneurship Bug
Started an organization to reduce paper consumption at the college by reusing the one-sided used paper, bundling them into a 100-200-page notebooks and selling them to students.
After college I joined Amadeus which is a GDS for travel industry because I wanted to learn technology and understand how tech products are built.
I joined Practo in April 2015 where I got to work on interesting problems such as patient no shows, doctor no shows, transaction growth, calls reliability and monetization.
Meanwhile, I also conceptualized and built an online used commercial vehicle marketplace platform aimed at bringing the inventory to be available to all and bring price parity between different states allowing buyers to get in touch with sellers directly. The product is live, and it is called Trucknagar.com.
My mission is to simplify human lives and improve their lifestyle using technology.
For more information log on to www.takeup.in