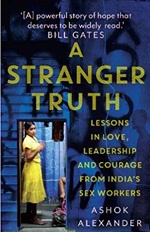 Bill Gates calls this book "A powerful story of hope that deserves to be widely read."
This book is an account of a guy who quit McKinsey after working there for 17 years to do social work. He picked one of the most difficult tasks – to stem the growth of HIV epidemic in India.
Alexander built Avahan over ten years, during the first decade of this century, into one of the largest and most successful HIV prevention programs in the world. He is credited with averting over 6.5 lakh new infections. A Stranger Truth compellingly brings alive the world of people most vulnerable to HIV/AIDS. The book is also a celebration of the success of this work.
A report in 2002 predicted that by 2010 India would become the AIDS capital of the world but that year went by and there were no alarm bells ringing about this epidemic. The book brings out this untold story of courage among women leaders and leadership shown by the Bill & Melinda Gates Foundation in supporting this effort whole heartedly for a decade.
The book is a splendid case study of applying hardcore management principles, especially of managing scale involving 550 towns. NGOs, firms and business leaders can learn a lot from this book. It is a lesson in how to achieve maximum social impact.
Ashok now lives in New Delhi and nurtures his own NGO, the Antara Foundation, which works in the field of maternal and child health in rural Rajasthan.