Most products need plastic packaging because of water content in them. If water is eliminated at source, most consumer products don't need plastic packaging. These products can be shipped in dry form where consumers can mix water and use them anywhere.
With this sustainable packing idea, Gauri Gupta and Shivraj Singh Negi founded Arani Ecosteps in Gurugram in early 2021. The ISB and IIMB grad couple believe this concept can radically redefine packaging all over the world. Excerpts from their chat with Benedict Paramanand, Editor of SustainabilityNext
Are you couple entrepreneurs?
Yes. We found common concern in this problem, and the passion to contribute to a solution. From a business perspective, we also bring complementing capabilities and industry connects to execute the idea. While Gauri focuses primarily on product development, Shivraj is developing the sales strategy and channels suited for these products.
What are the advantages and disadvantages?
There are multiple advantages; the primary one being absolute alignment of vision and mission. We trust each other, which helps keep disagreements minor. We build on each other's ideas and expertise and know each other's strengths well, so there is a very intuitive division of roles. Also, since the issue (and hence the business) means so much to both of us, there is a lot of joy in building something that could make a reasonable dent in an important problem.
The key disadvantage is the blurring of lines between work and home. We continue discussing business ideas, problems, and the future even when we are at home. The development journey of our products has been long and there were multiple setbacks. In a usual work setting we would have left that disappointment at work. But since we are in this together, those setbacks sometimes travel home as well.
What is your short-term and mid-term vision?
While the focus from this point on would be to build sales and distribution, we will continue to develop and launch new products. We are currently in our second year of operation and have scaled monthly online revenue to 3-4x of year 1. We aspire for another year of 2-3x revenue growth from the online business and sustain 25-30% year-on-year growth in the medium term.
On the offline front, our first store started in March this year and we aspire to scale to at least 2 more in the coming calendar year. We are still evaluating the execution model on this front though, and it might change as we learn more.
We are also very inspired by the R&D conducted by innovative packaging companies to create new materials. In the 5 year horizon, we aspire to partner with them meaningfully for developing different solutions and rolling them out to as many sectors as possible.
Your funding model
We are currently bootstrapped. Since this is relatively unchartered territory, it is very important for us that any external investor believe in the larger mission. If such a meeting of minds happens, we are keen to raise capital for scaling up. The stage is likely to be sometime next year.
What is the size of the pre consumer waste and how much is it being addressed
Out of 350 million tons of plastic produced annually, nearly 40% is consumer waste i.e. goes towards packaging of consumer products. This is single use plastic which is used for a time of anywhere between minutes to a few months before being thrown away. Very little of this is currently recycled – global best-case estimates are at 9% though recent data suggests a drop of 1-2% since 2018. A small percentage is incinerated, while all the balance accumulates in our environment across landfills, rivers and oceans. This plastic disintegrates into small pieces and is carried to the farthest reaches of the planet. It has now entered our food chain and has been conclusively found in human blood, and in the placenta of unborn babies.
There are three primary ways to tackle plastic pollution, but institutional intervention at scale is needed to make any or all meaningful
Reduce: Aimed at the closing the production tap, include design innovations e.g. a thin layer of plastic instead of a 100% plastic pack. Or product innovations so that plastic packaging isn't needed at all.
Re-use: Aimed at making the most of what has already been produced instead of discarding it. There are re-filling models coming up as pilots in multiple cities worldwide – across home care products, personal care products and interestingly, even makeup!
Recycling: The least efficient and most energy intensive option at present. But innovation and capacity is growing rapidly in addition to collection and segregation efforts – which are absolutely key because once trash ends up in a landfill, its chances of being recycled are close to zero.
What's Your USP?
Eliminating plastic at the primary packaging level: Many efforts are ongoing to make shipping boxes and courier mailers plastic-free, which is very critical. This is called secondary/tertiary packaging. At Arani, we are working to remove plastic from the primary packaging i.e. the first layer covering the product.
Our core thesis is this – plastic packaging exists for a reason. In most cases, the reason is the product form. If liquid, the product will need some form of plastic packaging. So, we re-design the products themselves. To get rid of the plastic, we get rid of the water.
Affordability: This is very central to our thought behind Arani because we want to make sustainable consumption mainstream, instead of a one-time purchase. Our current price points that are affordable for majority of the consumers who buy home care and personal care products regularly. We have benchmarked them to mass-market alternatives and are constantly working to bring costs further down with efficiencies of scale.
a
About Arani Ecosteps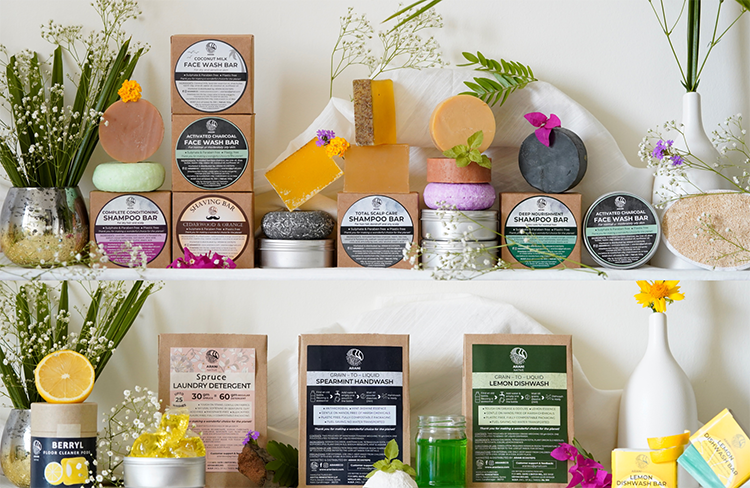 A brand of personal and home care essentials reformulated such that they don't need any plastic packaging.
A Sanskrit word for the twig used to start a fire, 'Arani' was born quite the same way – a chance realization of a problem that had been on our minds for a long time.
Our story is a relatively simple one; my partner Shivraj and I had always been conscious consumers in the sense that we purchased only what we needed, reused old containers in the ways our grandmoms did…you get the drift. But one session of taking the trash out somehow highlighted how much plastic packaging we were throwing out – across bottles, wrappers, food packaging etc. This had coincided with some recent reading we had been doing around ocean plastic pollution, cleanups and the general commentary around growing waste. We were both managing very busy careers at that point and starting something up was definitely not the first thought to cross our minds! But we decided to start exploring.
Alongside building our knowledge, in early 2020, we started a Facebook page to start spreading awareness about the issue of growing single-use plastic waste from packaging. It was an interesting exercise since it also helped us get reactions from people – whether they cared about the issue too, whether they were looking for alternatives, what would affect their decision to make a switch etc. In about 6 months, we had enough conviction that this was a sizeable, addressable and important problem, and one that we could use our skillsets to help solve.
The journey from there to creating a range of products has been a long one involving extensive research, product development, stability tests with new packaging materials and building a consumer base! Since its launch in January 2021, Arani has helped save over 55,000 units of single-use plastic weighing over 600kg, through products shipped to 400+ pin codes across India.
In March 2022, we also opened a refill store in Gurgaon, where local customers bring their old bottles to refill from a range of non-toxic home care liquids including handwash, dishwash, floor cleaner, surface cleaner, laundry detergent and toilet cleaner.
The Concept
Plastic is a preferred packaging material for a bunch of (good) reasons! Some of them have to do with the material's attributes – it survives long supply chains, you can make practically anything out of it, and it is SO affordable.
But another key aspect is the product itself, and that becomes even more dominant when you're trying to change primary packaging. This is because primary packaging is always in touch with the product and is the first barrier to the external environment.
Our thought was simple – in order to remove plastic from the packaging, we would have to remove water from the product. Dry concentrates have an incredible set of advantages:
90%+ of liquid product volume is water. So, by removing it, the product becomes so compact that very little packaging is needed in the first place
Since they're dry, they don't need elaborate moisture barrier. So whatever little packaging is needed, it can be of less intensive materials like paper, cardboard, corn starch films, water soluble films etc.
The carbon footprint reduction! Why ship water across thousands of kilometers when it is available at the customer's home? All they need to do is dilute these concentrates using any old bottle, or in some cases, use the products as-is. Space-saving and travel-friendly are just happy bonuses.
Gentler formulations: Liquid products require a bunch of preservatives and stabilizers because, well, microbes love water too. Dry concentrates can be developed with much milder ingredients, skip quite a few chemicals, and have surprisingly long shelf lives.
The proof of concept for us came through stability tests (3-6 months of studying these new formulations in their non-plastic packaging materials across a range of temperature and humidity conditions) and more importantly, from our consumers! With data for over a year and a half from all real-life weather and use conditions across India, we are sure the products work. And that people want to reduce their waste 🙂
There are broadly 3 modes of our products:
Bottle as a bar – Tablets for toothpaste; bars for shampoo, facewash and shaving in order to avoid bottles and tubes.
Concentrates – Premixes for handwash, dishwash, floor cleaner that need to be diluted with water at home using any old bottle. Laundry Detergent is a ready-to-use powder but concentrated so needed in half quantity
Liquid refills – Available at the Gurgaon store where local customers can refill home-care liquids directly!
Others – Bamboo toothbrushes, Bamboo cotton swabs, Cloth bars, reusable aluminum bottles
If Arani Ecosteps can set off a movement towards dry packaging, there will be other big benefits as well. Water can be saved in a big way and carbon emissions from transportation can be reduced significantly. They could even trade carbon credits for their packaging process idea. More than that, the cost of packaging for consumer product companies can come down resulting in cost savings to companies which they could pass on to consumers. It is a win win for all.
a