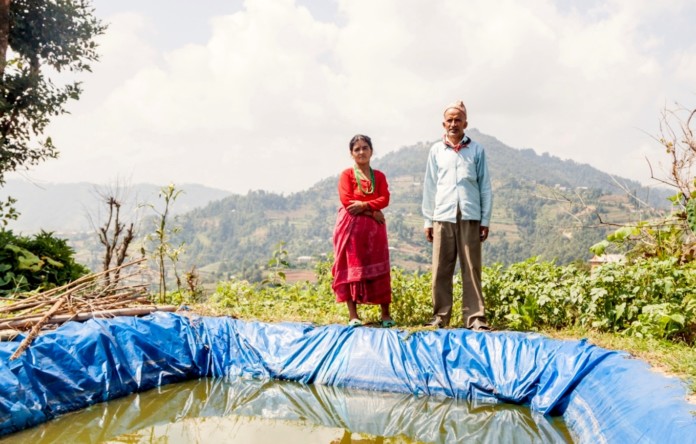 Farmers in Nepal's Kavrepalanchok district say they are now confident of getting around the problem of erratic rainfall by adopting simple 'climate-smart' practices like lining ponds with plastic to conserve water.
Bimala Bajagain, 35, who farms potatoes, tomatoes, bitter gourd and cucumbers in her village of Kalchebesi, Kavrepalanchok district, tells that she has difficulty watering her crops in a timely way. "We have scarcity of water during the summer, but this year it poured torrentially for a day and then stayed dry for the rest of the season."
Yet, Bajagain doubled her income from the sale of vegetables this year. Pointing to a grove of bitter gourds ripe for picking, she explains how mulching helped retain moisture in crops and minimise evaporation. "It involves nothing more than digging a hole for placing organic manure, sowing the seed and covering it with hay as a protective layer."
The results are palpable. "The bitter gourd seeds I had sown in February this year were yielding six months later, whereas last year's gourds dried up quickly with the harvest lasting only four months," Bajagain says.
In the neighboring village of Patlekhet, other climate-smart methods are in use. Here ponds are lined with plastic sheeting and waste water is used for irrigation. Each household in Patlekhet village has its own plastic-lined collection pond while a bigger community pond sits higher up the hill.
"Plastic ponds have greatly assisted the irrigation needs of my home garden," says Saraswati Dhital, a farmer who was helped by a climate-smart project run by the Centre for Environmental and Agricultural Policy Research, Extension and Development (CEAPRED), a local NGO, with support from the International Centre for Integrated Mountain Development (ICIMOD).
Waste-water from wash basins is channeled into a small plastic-lined pond that feeds Dhital's vegetable garden planted with turnip, cardamom, lemon and coriander as part of a year-old action plan by CEAPRED and ICIMOD to encourage water-smart practices.
"Our main intervention is for waste-water management," says Keshav Dutta Joshi, program director, CEAPRED. "According to our research, a typical family that grows vegetables using waste-water irrigation and keeps cattle can earn more than a migrant labourer working in the Gulf."
"We aim to have a scientific basis to design and apply a well-packaged program for the entire mid-hill agro-ecological region of Nepal — a package that will tell farmers how much water can be harvested, the amount of investment required, the crops that can be grown and amount of income that can be earned," says Joshi. "But, we will need data from at least three consecutive years of action research for this."
A study conducted by Kochi Technology University (KTU), Japan, published in EconPapers, found that vegetable production and income can increase by more than 30 per cent if a simple water-conservation technique like lining ponds with plastic is deployed. Plastic-pond technology, the study says, "is expected to contribute to poverty reduction for smallholder farmers."
"Overall, the plastic pond shall be a promising technology not only in Nepal, but also many other developing nations," the study said.
http://www.scidev.net/south-asia/farming/news/nepali-farmers-get-climate-smart.html?utm_content=buffer684a4&utm_medium=social&utm_source=twitter.com&utm_campaign=buffer. Copyright: David Breashears / GlacierWorks