Freudenberg is one of the world's top MNCs that practices what it preaches. It is one of the top businesses which has started seeing profits from treating Sustainability as a business strategy. The German MNC has a strong foot and hand print in India as well.
Georg Graf has 35 years of experience in Germany and Asia managing operational businesses in diverse corporate functions. He joined the Freudenberg Group in 1992, relocated to India in 2008 and has been responsible for the Freudenberg Regional Corporate Center India, based in Bangalore, since 2013. Since 2016, he's the Freudenberg Regional Representative for India.
From September 2016, he has been a member of the Indo-German Chamber of Commerce and its President for the 2019-2020 period. Mr. Graf is known for his outstanding intercultural skills from his many years of experience in international and Indo-German business.
In a free-wheeling chat with Benedict Paramanand, Editor of SustainabilityNext, Mr. Graf, covers a lot of ground from fuel cells for running ships to drinking water solutions to the world. Edited Excerpts:
In 2017 you had a group strategy on Sustainability, what has been your learning in the last 3 to 4 years and how can Indian businesses learn for this experience?
Freudenberg Group is a 172-year-old entity, Sustainability is a part of our DNA. In 172 years, we market ourselves as a values-based technology group. It comes with responsibility as an integral component of our spirit. It is very easy for us to market sustainability in each and every material, in each and every process, in each and every product and in each and every value addition to what we bring to our customer.
Freudenberg is present in 60 countries and in India it is in 8 out of its 10 businesses. Sustainability is a very logical step, which is really a part of our DNA, and is also something which is value-adding for us.
Measuring is very important to drive sustainability
Freudenberg has been successful in measuring CO2 emission across the Group. Our governance model is a strategical guide model. This means that these strategies will be extended and executed by our operative business group as well. They have to track it according to the strategy.
We have learnt what CO2 emission directly means for Freudenberg. For example, we calculated how many tonnes of CO2 was produced to generate a million euro of sales. I think this was not known before.
In 2018 we got an opportunity to draw up KPIs for waste, and it was significant to understand the quantity of waste produced for generating 1 million euro of sales. This is something which really has opened a lot of thinking and awareness. Because, if you don't measure, how can we set KPIs?. It is very important to measure and gain learnings out of this.
You company has a big interest in Fuel Cell Technology
In fuel cell systems we focus on heavy duty applications. For example, in buses fuel cells can help improve air quality of the cities like Delhi. Freudenberg was successful in replicating such models in the utility vehicles segments, in ships and trains.
Freudenberg Group is investing more time, resource and opportunity into these components for the operations and sub systems of ships, trains and heavy utility vehicles. Freudenberg has a strategic cooperation with a German shipyard, the Meyer Werft Shipyard. There are plans to develop the next generation of fuel cells for use of ocean-going passenger ships.
You are here since 2008, so what significance changes you have seen in the B2B market space
There is a shift from commodities to specialties. Today Indian companies also produce for the global market. Freudenberg Group looks at "Make in India" as a skills development project, this is a part of sustainability. Now, there's a shift in mind set. Ten years back, it was not possible to talk about sustainability. There is a shift in branding activities as well. I think the mentality to not throw things away but to fix it, has changed a lot in India.
Training Gaps in India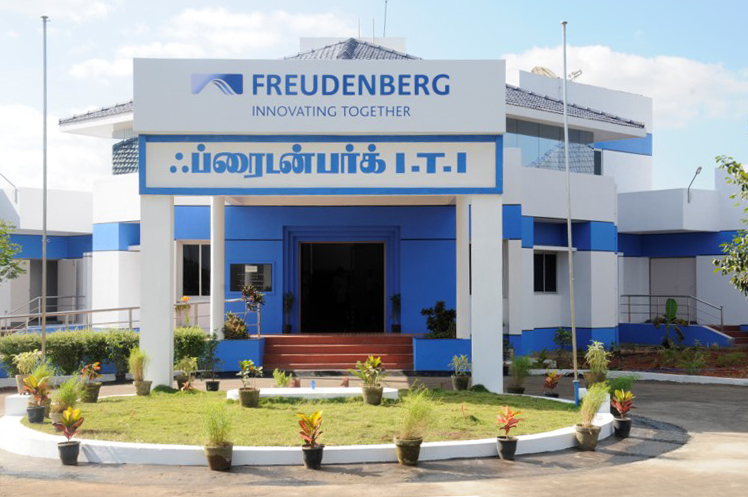 I think education is an area where we have a long way to go. I come from a country where dual educational system is the norm. I don't see this in India where academia and solid vocational training are not given equal importance. Societies have to accept the fact that a vocationally trained person is equally important as compared to someone with one or even two MBAs.
It's surprising to me that we only have 20,000 students from all over India in Germany. Ideally, we should have at least two lakh students. Of them, 1.8 lakh should come back to India and 20,000 students could stay back in Germany because we need more trained people to fill vacant jobs.
PET bottles to nonwovens
Freudenberg is one of the largest recyclers of PET bottles in the world. They are shredded into flakes and processed to nonwovens, given a new life as headliners and are made into roof membranes or sound and thermal insulation in buildings. In Europe, the Freudenberg Performance Materials sites in Novedrate and Pisticci, Italy and Colmar, France process some 2.5 billion bottles a year. In Japan, the Japan Vilene Company Business Group also recycles PET bottles at its Oyama site. Every year over 57,000 tons of reyclate are made from pet bottles. Freudenberg Performance Materials in India uses raw materials recycled from the PET bottles for manufacturing nonwovens and technical textiles.
Saving Water in Chennai
In India, Gunasekaran Sivasailam started to think hard about water. The head of the Freudenberg Performance Materials site in Chennai, India, which also manufactures nonwovens, was worried about having a sufficient supply for production, as the city and its 12 million inhabitants generally consume ground water faster than it can be replenished by rain. As a result, the soil has become salty and, in some cases, sea water has been penetrating the aquifer.

Sivasailam and his team members analysed water circulation and usage at their sites and worked out optimal solutions. A project team tested various improvements and introduced a reverse osmosis process. It reduced water consumption by 202 tons a year and significantly improved the quality of the treated water.

This allowed him to recycle 100 percent of wastewater. The unit no longer needs 4.4 liters of water to produce a kilogram of textiles but only 2.7 liters. Another bonus: The solid particulate matter generated during the filtration process is sold to the cement industry, where it is used as fuel.

Clean drinking water is a valuable resource in many world regions. The Freudenberg Filtration Technologies Business Group produces a broad range of filter media for drinking water filtration, which helps to improve water quality by filtering out hazardous suspended particles.

Physiologically harmless raw material together with state-of-the-art production technology guarantee filter media that meet tough hygiene, efficiency and economic feasibility standards needed for water treatment. Freudenberg is helping the growing world population with clear drinking water.