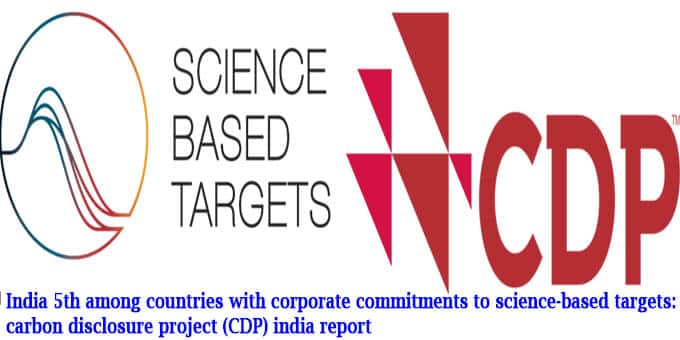 Days of waiting for the 'right time' is over. Indian businesses, known for their 'dhekenge' (let's see) attitude, have no choice but to commit and act on climate threats. Latest data by Carbon Disclosure Project (CDP) reveal that Indian growth could be affected by climate change in the near to medium future.
However, CDP survey shows a good number of Indian businesses are at the forefront in tackling climate impact on their business.
Highlights of the recent CDP data
60 of the Top 200 Indian companies on the BSE were among the 220 that disclosed through CDP in 2020 (up 17% from last year)
51 Indian corporates are driving India's transition to a net- zero economy by committing to science-based targets, (a significant growth of over 37% from 2019), positioning India ahead of Switzerland & The Netherlands (refer table below)
Water security disclosure requests witnessed a staggering 80% increase in response rate in 2020
58 companies (25 new) are pricing carbon or are planning to do so in the next two years (up 12% from 2019)
Despite 2020's catastrophic economic climate, 220 Indian companies responded to investor requests and disclosed climate data through CDP, an environmental non-profit. Out of the companies requested to disclose by investors, 60 of the Top 200 on the BSE (Bombay Stock Exchange) responded (out of a total 69). The rest were requested to disclose through CDP's supply chain program by their corporate customers.
Out of these, four Indian companies have made it to the prestigious CDP A List for the first time and are amongst the 16 that have secured the Leadership Band in recognition of their bold climate action. The findings were released today in CDP's annual India report, "Building Back Greener: India Inc. Demonstrates Climate Resilience".
Five years on from the Paris Agreement, and months away from COP26, India Inc. is ramping up environmental action to help the country build back a green and resilient economy. Findings indicate that investor driven increased market pressure is compelling companies to embed climate concerns into their economic decision-making processes – 88% of responding companies report incentivizing top management for climate related issues; 66 companies, a whopping 99% of the responding sample have board level oversight of climate-related issues.
Damandeep Singh, Director CDP India, said: "Data shows that Indian companies have really upped their game on climate action. This bodes well future-proofing India's ambitious growth plans which are manufacturing centric."
CDP's recent global supply chain report highlights the increased engagement between companies and their suppliers on climate related issues. It underscores the critical role value chainsplay in a company's attempt at decarbonization. Indian suppliers have reported a staggering US$3.2 billion in extra costs by 2026 from environmental risks.
While climate conscious investors continue to pressurize companies to improve sustainability by disclosing data, 13 Indian companies have taken a big leap forward by aligning their climate goals with the most ambitious aim of the Paris Agreement – limiting global temperature rise to 1.5°C above preindustrial levels. Two carbon-intensive sectors, automobiles & components and real estate have emerged as leaders, and all Indian companies in the real estate sector now have approved targets that align with the 1.5 degrees scenario.
The CDP India Annual Report 2020, "Building Back Greener – India Inc. Demonstrates Climate Resilience" is available on www.cdp.net
About CDP
CDP is a global non-profit that runs the world's environmental disclosure system for companies, cities, states and regions. Founded in 2000 and working with over 590 investors with $110 trillion in assets, CDP pioneered using capital markets and corporate procurement to motivate companies to disclose their environmental impacts, and to reduce greenhouse gas emissions, safeguard water resources and protect forests.
Over 10,000 organizations around the world disclosed data through CDP in 2020, including more than 9,600 companies worth over 50% of global market capitalization, and over 940 cities, states and regions, representing a combined population of over 2.6 billion. Fully TCFD aligned, CDP holds the largest environmental database in the world, and CDP scores are widely used to drive investment and procurement decisions towards a zero carbon, sustainable and resilient economy. CDP is a founding member of the Science Based Targets initiative, We Mean Business Coalition, The Investor Agenda and the Net Zero Asset Managers initiative. www.cdp.net or follow @CDP.