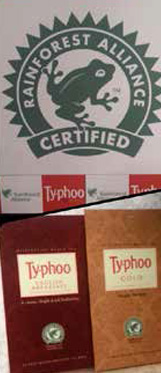 Typhoo, a leading tea brand of UK, launched its Rainforest Alliance certified tea blends in India recently. The brand is marketed in India by the Apeejay Group. Rainforest Alliance certification to products means that the food brand has sourced its ingredients from areas that follow environmental best practices.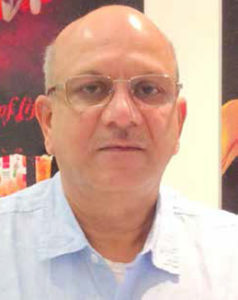 Subrata Mukerji, business head of Typhoo India, said the Indian consumer today is demanding responsibly produced products. In the larger sense, this belongs to the realm of linking consumption with sustainability. He said the additional cost of certification will be absorbed by the brand so that it is not seen as charging a premium for offering a positive experience.
"We are not charging premium although cost has gone up. At this stage conveying the message that they are better than better products is important. We want this movement to go forward. In fact, the mindset of premiumness comes from value that you deliver," Mr. Mukerji told SustainabilityNext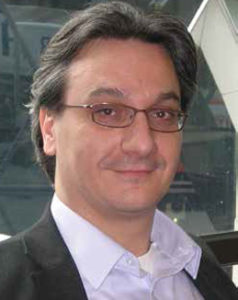 Dominique Gangneux, VP, markets transformation, with the Rainforest Alliance says 30 to 35% of consumers today seek responsible brands and this number is growing at 5% a year.
The Typhoo brands in India will display the frog symbol indicating it is certified by Rainforest Alliance. The Typhoo brand launch appears like a logical next step because the global brand has been sourcing tea from tea estates that grow tea as per the Sustainable Agricultural Network standards, including adopting Ethical Tea Partnership for about five years. Typhoos brands include Classic Assam, English Breakfast, Gold and 24 Carat Leaf Tea.
Mango, Banana to be Certified
The Rainforest Alliance (RA) is a 28-year old global NGO that has been doing splendid work to conserve
biodiversity and ensure sustainable livelihoods by transforming land-use practices, business practices and consumer behavior. Its seal with the frog symbol carries huge credibility.
RA's tea program in India started in 2007 with the first certification a year later. Today, it works with 58 groups representing 878 estates and farms. In 2014, it certified 15% of tea produced in India. The estates are spread all over including Western Ghats, Assam, Darjeeling and Dooars.
Mr. Gangneux said RA, as part of its global strategy, would like to extend its reach to include 14 other crops like palm oil, banana, sugar and mango. "One of our top priorities from now is to start engaging with brands in India."
RA does a lot of work in sustainable forestry globally but is yet to start here in India. "We have not done a lot of work yet with forestry, but we should start there as well," he said.
About sustainable tourism, which is the third big area of RA's influence, he said: "We are in talks with big hotel groups for certification. But it is at an early stage."
How Weeds Help Café Coffee Day
RA trained CCD two years ago on green farming habits. A top official of CCD is excited about how not eliminating good weeds along with the bad has helped in the reduction in the use of chemical pesticides. It has helped in improving soil quality and cut soil erosion as well.
RA operates in 70 countries. It has been very influential in Latin America. It intends playing a significant role in Asia, particularly India. Its approach is holistic – incentivize communities to protect biodiversity instead of resorting to practices that destroy biodiversity.
As part of its certification process, RA ensures that the people are treated well. It's secret of success is that it offers practical tools and techniques on managing land sustainably, reduce and recycle waste, improve efficiencies and safety in work places. Currently, RA work in certifying farms, agricultural land and tourism properties.
Measure of Success
RA has been a roaring success globally. Here's why:
• More than 3,000 global blue chip organizations have signed up.
• 5.2% of world's coffee, 20% of banana, 14% tea, 14.5% cocoa are RA certified
• Benefits more than 4.7 million people on farms in 70 countries
• 1.1 million farms are RA certified
• Global retail value of produce certified is more than $10 billion
Mr. Gangneux said RA's strategy for the next five years is to take many of the percentages of impact to 20%.
Considering the extent and pace of global ecological damage, RA's effort needs to be scaled up significantly. Or the world needs many more RAs.
The only way it can happen is when countries, companies and consumers demand greater responsibility from producers. Currently only 5% of Fortune 500 companies purchase RA certified products, this number has to be much higher, why not 95?
RA is an NGO which will need greater support and appreciation. Ultimately, it's the consumer who, if he wants to be called the king or the queen, can make significant difference. This can happen when consumers start consuming not just for their bodies, but also for their souls as well!