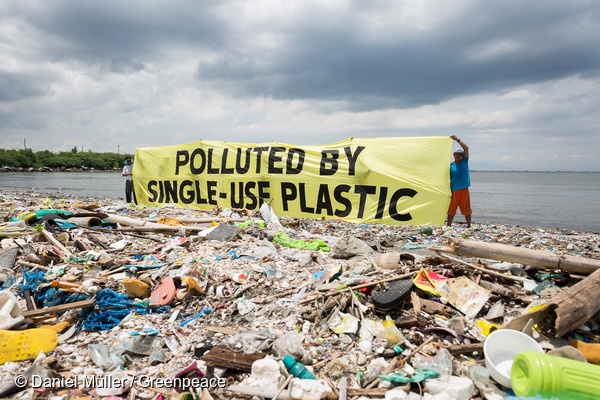 On October 28, 2018, more than 275 brands, retailers, recyclers, governments and NGOs announced a shared vision to close the loop on plastic pollution.
Among the major brands and retailers signing the commitment are Burberry Group, Carrefour, Coca-Cola, Colgate-Palmolive, Danone, Diageo, H & M, Henkel, L'Oréal, Marks and Spencer, Mars, Nestlé, Philips, SC Johnson, Sealed Air, Stanley Black & Decker, Target, Unilever and Walmart.
The signatories also include major waste management first, including Suez and Veolia; a number of municipal and national governments, including Chile, France and the United Kingdom; and 150 or so endorsers).
In a first-of-its-kind collaboration, the signatories to the New Plastics Economy Global Commitment — collectively responsible for producing 20% of all plastic packaging globally and represent the full value chain for plastics — have pledged to eradicate plastic waste and pollution. The scale, scope and shared approach of their announcement, made at the Our Oceans conference in Bali, make it one of the most significant actions around plastic pollution to date.
The commitment, launched with the social media hashtag #LineInTheSand, is being led by the Ellen MacArthur Foundation in collaboration with U.N. Environment. While many signatories had set individual goals prior to this announcement, this represents a far broader scale and scope of commitments to meaningfully tackle plastic pollution.
Signatories of the commitment are formally endorsing the Ellen MacArthur Foundation's framework of a circular economy for plastics, which centers on ensuring that plastics never become waste. That vision is defined by six key points:
Elimination of problematic or unnecessary plastic packaging through redesign, innovation and new delivery models is a priority
Reuse models are applied where relevant, reducing the need for single-use packaging
All plastic packaging is 100 percent reusable, recyclable or compostable
All plastic packaging is reused, recycled or composted in practice
The use of plastic is fully decoupled from the consumption of finite resources
All plastic packaging is free of hazardous chemicals, and the health, safety and rights of all people involved are respected.
This isn't the first cross-cutting agreement on plastics. This commitment builds on and reinforces the G7 Plastics Charter, signed earlier this year; the EU Strategy for Plastics in a Circular Economy; the Commonwealth Blue Charter, agreed to in April by leaders of the Commonwealth countries; and the Community of Ocean Action established by the United Nations last November. It also will aim to contribute to the implementation of the U.N. Environment's 2016 resolutions on marine litter and microplastics, and several Sustainable Development Goals, including SDG 12 (on sustainable consumption and production) and 14 (on conserving and sustainably using the oceans).
The global commitment offers a promising vision for eliminating plastic waste and transforming an aspirational circular economy for plastics into a functioning, closed-loop system. But while the hundreds of signatories represent producers and consumers of a fifth of the plastics market, it will require participation by the other 80% to truly turn the tide on plastic pollution.
Read full story
https://www.greenbiz.com/article/5-takeaways-new-plastics-economy-global-commitment