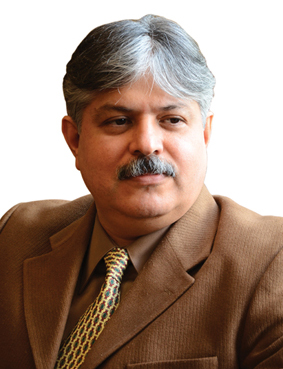 MD and CEO Ajay Kapur on how Ambuja Cement
is striving to be the most sustainable and competitive among the cement companies in India. Excerpts from its latest Sustainability Report:
Ambuja's role with respect to Sustainability?
Along with ensuring shareholder benefit over the years, safe operations, environment conservation and social well-being have also been at the core of our philosophy. This approach has been adopted in every facet of Ambuja's activities – business strategy, leadership, natural resources, health, safety, ethics and                         all stakeholders.
In 2014, we had significant achievements in the use of alternative fuels and raw materials wherein we achieved 3.95 % of TSR (8% increase over 2013). Notably, our Bhatapara Line II kiln contributed maximum GAV (~12 cr) during the year. We also burnt 34,876 tones plastic in our kilns in 2014 which is 1.02 times of total plastic thrown in the market by the company in terms of packing bags. Furthermore, we generated 4.5% of energy from renewable energy sources.
We maintained PPC production in excess of 90% continuing our focus on production of environment friendly fly ash based cement. We achieved ~29% fly ash absorption in 2014. The total quantity of fly ash to the tune of 5.8 MTPA has been utilized in the year 2014 for production of cement. This has helped to reduce the clinker factor (CF) from 75.15% in 2006 to about 67% in 2014. CF improvement plans are in place which includes clinker quality improvement, gypsum optimization, usage of aid mixtures, usage of ground fly ash etc.
How are you engaging with civil society and other stakeholders?
Our pan-India CSR activities encompasses women empowerment through self help groups (824 numbers in 16 locations), skill and entrepreneurship development institutes (for 45 trades at 16 centers), agro-based livelihood creation, education, water resources management, and others.
The company's endeavour continues to emerge as among the world's most water positive Company. A combination of various program and revolutionary methods such as check dams, river linking, micro and drip irrigation, and conventional dams are employed for water resource management. Through rainwater harvesting, large quantities of water were collected that would have otherwise gone unused. Steadily the results grew with each year. Today, Ambuja Cement is proud to be 4 times water positive, as certified by external certification body DNV GL, making it India's leading water positive cement company.
Our consistent efforts towards sustainable development have been recognized from various awarding bodies. We received the prestigious CII Sustainability Award 2014 for 'Commendation for Significant Achievement' for the 4th year in a row. In addition, Ambuja was also conferred the coveted CBNC TV18 Risk Management Award in the category of Sustainability.
How much weightage does safety have in the Ambuja's Sustainability mission?
Ambuja embarked on a mission 'We Care' to achieve 'Zero Harm' at the workplace. But achieving 'Zero Harm' is not the ultimate goal, it is a journey that will involve transformation of operations as well as attitudes. Through our constant efforts, I am proud to say that the 'We Care' initiative was selected as one of the Top five initiatives (among 82 entries) for the Holcim Global OH&S Excellence Award 2014.
How do you align with HOLCIM's global sustainability development ambition 2030?
Ambuja's True Value project piloted in 2013 helped quantify the social and environmental impact in financial terms (measuring triple bottom line). This tool will be utilized by Holcim to drive implementation of the Holcim Sustainable Development Ambition 2030.
Holcim SD Ambitions 2030 is broadly classified into three pillars – Climate, Resources & Communities. Some of the focused measures undertaken by Ambuja include an investment in Alternative Fuel processing facilities, Waste heat recovery system, Wind and solar energy, and increasing the use of Fly Ash and other alternative fuels/materials. This will help in minimizing the use of primary resources and climate protection.
Ambuja has also identified an opportunity to add significant value through its inclusive business project, Sanitation for Life (S4L).