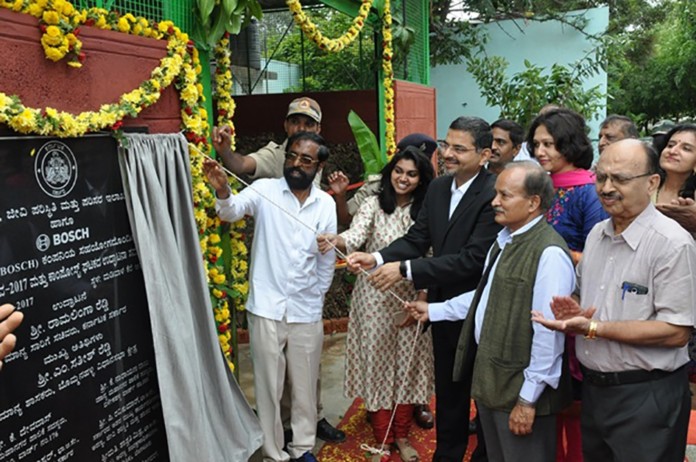 As part of its efforts to demonstrate that it is a responsible corporate citizen, Robert Bosch Engineering and Business Solutions (RBEI), the 100% subsidiary of the Bosch Group with 18,000 employees, has drawn up plans to support the government's and the civil society's efforts of rejuvenating lakes in Bangalore. To begin with, it has invested in a compost unit in the 114 acre Madiwala Lake, one of the most pristine lakes in the city.
The compost plant helps shred dry waste, which is usually burnt increasing air pollution, and convert it into compost. The compost is used as manure in the park and the rest is sold. This initiative will help in improving the quality of the plants and the trees in the park.
RBEI believes that only a public-private partnership model has higher rate of success. This compost plant is in collaboration with the Karnataka Forest Department and Regreen Ventures Pvt Ltd. The revenue earned from selling compost will be used for the maintenance of the park.
As part of its three-year plan RBEI plans to contribute to enhancing the biodiversity of at least 30 lakes in inner Bangalore. The Biodiversity Park at Madiwala Lake is its pilot. R K Shenoy, Senior Vice President, RBEI, said, "We hope this replicable model for decentralized waste management will pave the way for others to join us."
RBEI is banking on its volunteers to drive the lake initiative. Its theme this year is connecting people to environment. "We want more volunteers to connect with the environment. We are also looking at monitoring air quality in the area to inform people how well the area is being managed. This can be used as a networked environment," Mr. Shenoy told SustainabilityNext.
The big beneficiaries are the birds. Madiwala Lake get migratory birds such as Pelicans. Mr. Shenoy believes that "When they travel thousands of kilometers to come here, it is our duty to welcome them, just like we welcome our human guests, with a clean environment."