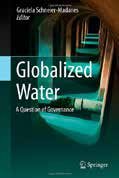 By Graciela Schneier-Madanes, Springer; March 2014
Globalized Water presents a compilation of voices that forms a unique scientific exploration of contemporary water management models and governance issues. The book describes the water paradox—how a local resource has become a global product—and the implications of this in how we identify challenges and make policy in the water sector. Over the last 20 years, the foundations of local and national water systems have been rocked by a wave of changes.
The authors in this book, experts in a wide range of disciplines, address the resulting debates and issues: water as a commodity and patrimony, technological rent, liberalization and privatization, the continuing evolution of water management and policy at the European level, decision making and stakeholder participation, conflict and consensus, and the inevitable growth of counter powers at the local and international levels, promoted by the advocates of sustainable development. The selected case studies are from Europe (primarily France but also Spain, Germany, the United Kingdom, and Portugal), Latin America (Argentina, Bolivia), the United States, Lebanon, and India. From this diverse collection of comparative perspectives and research methods, Globalized Water seeks to advance interdisciplinary research, contributing to a new and dynamic role for social sciences and governance on water.