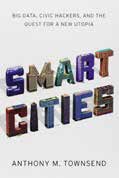 By Anthony M. Townsend, W. W. Norton & Company; Reprint edition, November 2014
Today more people live in cities than in the countryside, mobile broadband connections outnumber fixed ones and machines outnumber people on a new Internet of Things. In Smart Cities Anthony Townsend explores the question of what happens when computers take over the city in this era of mass urbanization and technological ubiquity, taking a look at the people and forces that have transformed the design of cities and information technologies.
From the great industrial metropolises of the nineteenth century to today's megacities, new technologies have been invented to address the challenges posed by human settlements of ever-greater size and complexity. As a new generation of technology barons, entrepreneurs, mayors and civic coders shape our future, explores their motivations, aspirations and shortcomings, offering a new civics for building communities.