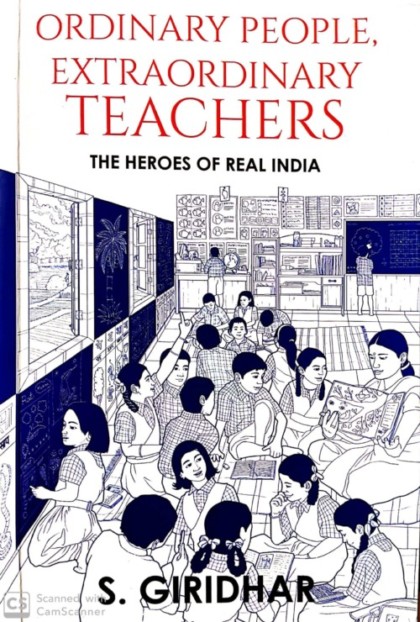 Ordinary People, Extraordinary Teachers: The Heroes of Real India
S. Giridhar, Westland, December 2019
One of the key reasons for Aam Aadmi Party's victory for the third time in a row in Delhi elections held recently is because of its stupendous work it did in government schools. This wouldn't have been possible without significant contribution from teachers of these schools. These schools also broke stereotypes that government schools cannot excel or compete with good private schools when good infrastructure and innovative teaching methods are provided.
In this book, S Giridhar has debunked many stereotypes and myths about government schools and its teachers across India. He found good to extreme commitment from teachers under very trying conditions. There are over one million government schools spanning India. Just the sheer size makes it a complex business.
The book is highly readable and the narrative compelling. Based on two decades of direct interaction with government schools. For this book, he picked 110 schools from a shortlist of 600.
The author has conveyed his central message through several case studies and interviews with teachers in various states of India where the Azim Premji Foundation is active. "These are teachers who defy all constraints because of a burning belief that every child can learn." This book is a tribute to their commitment and resilience.
The hard work of government school teachers are beginning to show. Giridhar writes: "The uplifting story of the outstanding teachers in this book tells us that …they are not only arresting this trend but are bringing back children from private schools to their own. They are doing this by demonstrating to their communities that children in their schools are learning better. What's heartening is that the annual survey ASER 2018 states that migration to private schools has plateaued in the last two years and some states have even seen a small increase in enrollment in government schools. There is change in the government schools if one cares to look for it."
The book's outcome could be multiple – it could motivate thousands of teachers to give their extra bit and many parents may hesitate less while sending their kids to government schools. The book's impact would be higher if it is translated in many Indian languages and the digital version is made free to all the teachers.
This book is also a tribute to the Azim Premji Foundation for re-energizing public education in many states of India.
Despite the efforts of many corporates in the primary and secondary education sector, what needs to be done to raise the standards of government schools is still humungous. Investment on education as a percentage of GDP has to at least double if we are to see some visible change. Also, innovative ways of dealing with this challenge are available like using the support of publicly sourced content streamed through TV channels.
By 2021, according to World Bank 2017 report, India will have 372 million children in the age group of 0 to 14 and 367 million in the 15 to 29 age group. It's not enough to achieve excellence in pockets, Indian poor have a right to better access to education, health and basic nutrition. Only a three pronged approach would help drive change.
The author writes: "The reality is that for at least 60% of our children government school is the only lifeline. It is only when children who are completely dependent on government schools receive equitable quality of education that we can (truly) hope to progress."
Giridhar's other passion is cricket and he has co-authored two books Midwicket Tales: From Trumper to Tendulkar and From Mumbai to Durban: India's Greatest Tests. The author is the Chief Operating Officer of Azim Premji University. He joined the Foundation eighteen years ago after over two decades in corporate business management roles.