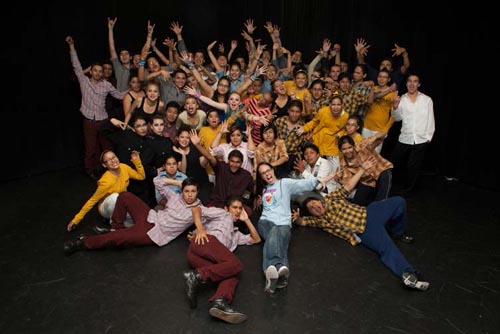 Business leaders worldwide recognize that changing consumer attitudes and behavior around sustainability within a rapidly evolving marketplace presents considerable challenges. In 2012, the World Economic Forum and its partner companies began addressing this challenge by researching the key question: "How can companies engage consumers to trigger simple behavioral shifts that enable more sustainable lifestyles, grow demand for more sustainable products and create business value?"
Their key findings were – Sustainability needs a makeover and millennials are the opportunity. On presentation of the key research findings and recommendations at the World Economic Forum Annual Meeting 2013 in Davos-Klosters, business leaders suggested pilot initiatives that would test strategies to engage millennials (ages 18 to 34) in sustainable lifestyles.
Responding to this mandate, the Forum and its Partner companies collaborated to explore the following three initiatives in 2013:
• Incentivize brand marketers to embed sustainability in their marketing campaigns
• Understand what language will motivate millennial consumers to engage in sustainable lifestyles
• Create a non-branded, collaborative social media platform that will raise awareness and engagement of millennial consumers around sustainable consumption.
Build the consumer case
The Forum, its Partners and Effie Worldwide announced a new Effie award focused on campaigns and efforts that promote sustainability.
The idea was – if the marketers are not engaged in the issue, then they will not engage consumers. 72% of brand managers are aware of their companies' sustainability agendas, but the majority feels that they are not incentivized to prioritize sustainability in their work (Source: Millward Brown Corporate, December 2012). This award gives marketers that incentive and is a step toward changing the existing dynamic.
To millennials, creating "less waste" or a more "simplified" world does not necessarily mean consuming fewer products. Rather, they want the products they consume to have minimal impact on the environment. This could mean a product that uses less material, or lasts longer than its predecessor. Longevity and durability of a product is a good motivator to purchase the product at a premium.
Millennials also appreciate "simplicity" in the sense that they want it to be as easy as possible to adopt the sustainable behavior – and appreciate companies that make the first effort to create better products before asking the consumer to change their habits. In essence, millennials expect brands to take the lead on the work, allowing them to "consume smarter" without much effort on their part.
Engage Marketers
Sustainability, as currently framed, is often perceived as irrelevant, confusing and demotivating. To address this, businesses want to develop and use a lexicon that is contextual, relevant, inspirational and aspirational to engage people in sustainable lifestyles.
Based on this, researchers tested messages with millennials in China and India, as these are the markets which present the greatest opportunity for engagement. Millennials in the United Kingdom formed the control group for testing. Four response measures – message rankings, eye movements, brain activity, and open-ended interview responses – were used to understand underlying attitudes and behavior around sustainability. In addition to these tests, in-store exploratory research was conducted at Marks & Spencer stores in London and Mumbai. For the first time, they have multi-level scientific validation of what kinds of sustainability messages resonate with millennial consumers.
Messages which frame millennials as "trendsetters" do not resonate at all. Talking about "trend-setting" takes the focus away from the product itself. Without some connection to the product and how it will benefit them and others, millennials lost interest in making a purchase. Making corporate claims – If a company advocates itself as a pioneer and forward thinker in the area of sustainability, it produces a negative connotation for millennials.
Recommendations
• Sustainability messaging requires sustainable products
The challenge of engaging millennial consumers is not just a matter of communication. Millennials want brands to deliver products which use less material, have innovative designs, and are durable. When brands use messaging that highlight these benefits, millennial consumers are more likely to purchase these products.
• Simplify messaging
Many millennial consumers still do not understand the meaning of "sustainability". Instead, they understand simple messages that break down the concept of "sustainability" into elements they make sense of, such as saving energy and water, and reducing waste – which makes it easier to connect to their daily lives and take action.
• Appeal to the social conscience
Millennials like messages which make them feel socially inclusive and positive about the future. Millennials will choose more sustainable options if brands contextualize their consumption habits in terms of leaving more for the future generations.
Digital Platform for Consumer Collaboration Millennials also want to digitally connect with brands to make a difference. The platform will drive greater engagement through a variety of content areas like frequently updated feed on the latest news and stories of interest; a look at the future of the living environment – cities, farms, interiors, and the materials we use to make them.
A showcase of the work of artists and designers who are using creativity to influence the future of the earth The Forum wants to make 2014 a year of impactful action with tangible results.
http://www3.weforum.org/docs/WEF_RC_EngagingTomorrowsConsumer_ ProjectReport_2014.pdf