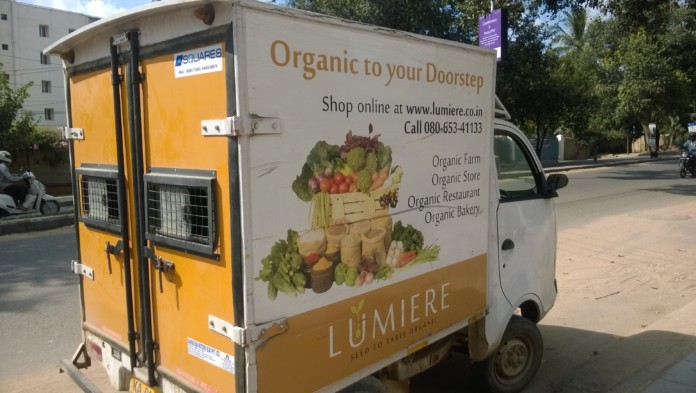 It has taken Lumiere Organic, one of India's pioneers in seed-to-table organic food business, 14 years to feel confident that the business could be sustained and grown in the coming years. Founder Manjunath Pankkaparambill's dogged perseverance and uncanny faith could now set his enterprise for take off. By Benedict Paramanand
Recent explosion of e-commerce may well be the game-changer. In four years Lumiere's e-store now does sales equal to that of one store. This is only going to shoot as commute is becoming such a hassle in Bengaluru and payment systems have become much simpler. The firm currently has physical stores in four outlets in Marathahalli, Whitefield, Koramangala and Sarjapur Road. It also runs an all-organic menu restaurant.
Manjunath says: "This means that 100% of everything that you eat at the restaurant has been produced by organic growers and farmers. Lumiere offers seasonal, fresh organic food, prepared in a healthy way." The star attraction is organic apple grown in Kashmir.
"Thus our dream of having a "Seed-to-table organic" business model has come true and we hope that many more such ventures would come up in our country as well as all over the world," Manjunath says with a glint in his eyes. Manjunath was once a California-based software engineer. He chucked his job at Oracle in 2002 to return to India.
Over a hot cup of tea, Manjunath chatted with the author on his early days, challenges he had to face and what the future holds for him, his firm and the organic sector in India.
Manjunath is a poster child of India's first phase of software boom. He could have stayed and earned millions more since the hyper growth phase was in the decade of 2000. But with already 15 years in it and a neat bank balance he heeded his calling to do something that had larger purpose and meaning.
He picked up a large farm in Munnar, in Kerala in 2002 and started growing organic vegetables and fruits. He hasn't looked back since then even when the situation looked bleak and threatened to wipe out his savings. What held him in good stead are the partnerships he built with a few organic farmers across south India and some happened to be once software engineers like him.
After dabbling with the idea of a restaurant and an organic store in Kochi, which had to be abandoned, Lumiere's real venture started after it moved to the then Bangalore in 2009.
With Nagaraja Prakasam, a prolific angel investor in social enterprises showing up four years ago, Manjunath's confidence was bolstered. According to a VC Circle report the company also crowd-sourced funds recently from some 20 investors to fuel its next phase.
Today, Lumiere has a fine network of partners from whom it sources free-range poultry (not caged and allowed to roam freely), milk, fruits, grocery and other organic products like honey, oils and pickles.
He still has many hurdles to cross which are more to do with the way the eco-system for organic farming is evolving. The primary challenges include price differential between organic and non-organic food items; poor customer trust in the certification process; lack of big funding to play the scale game, among a few.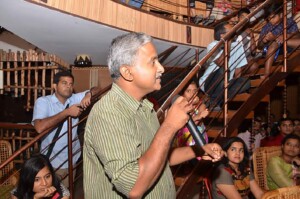 "With several players now in the market, the price is coming down. Customers don't mind paying 25% to 50% differential to regular food items like fruits, vegetables, grocery," Manjunath says. "If we are able to reach optimal efficiencies in the next three to five years, which we can, we could even compete with them on price," he adds.
About pricing, Manjunath makes a point that the pricing of non-organic food items are openly manipulated, hence the wild swing, whereas the price of organic food items is more or less stable. For example, price of carrots were cheaper in Lumiere stores than in the market for a few weeks in 2015.
Also, most organic stores operate with fair trade concept – paying the farmer a minimum agreed price irrespective of market price. This ensures supply as well as minimum price swings.
He finds the current Indian government showing serious effort at promoting organic farming. Manjunath says he was interviewed by a senior government official recently to understand the areas that needed to be addressed for promoting this sector. Manjunath says: "We can do wonders in organic farming in India if the eco-system supports us a bit more."
For Lumiere to take the leap from what it has built so far, Manjunath knows, he has to invest more in marketing and branding. The market is ready, so is Lumiere.