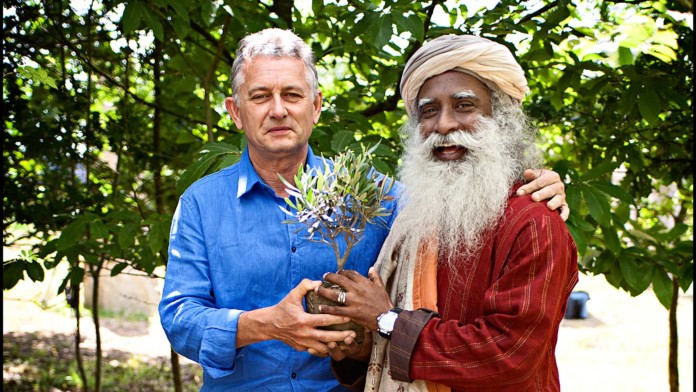 Yves Rocher & Sadhguru during
'I Love Trees Campaign'
Isha Foundation is not only a spiritual abode in Coimbatore, it's also an inspiring leader in advocating and practicing sustainability in several ways. One of the most visible and impactful initiatives is the planting of native trees on a mammoth scale
Isha's Project GreenHands (PGH) has reported planting 15 million saplings of 84 different native tree species in the last five years in south India. This initiative was funded by Yves Rocher Foundation (YR). This is part of YR which has funded planning of 50 million trees across the world.
To celebrate this milestone, Sadhguru, the founder of Isha Foundation, will be the guest of honor at a summit in Paris, organized by the Yves Rocher Foundation (YR) on 12th October 2015.
Over 50 years ago, Mr. Yves Rocher was convinced of the importance of environmental conservation when he created the brand that bore his name. His son, Jacques Rocher, president of Yves Rocher Foundation, continued to follow and fulfill that vision after he took over the reins. Today, the Yves Rocher group is the world leader in botanical beauty care with operations in over 90 countries.
In 2007, inspired by Wangari Mathai and using the framework from the UN initiative "Plant for the Planet: Billion Tree Campaign", Jacques took a pledge to plant 1 million trees. To fulfill that aim, YR began identifying planting partners.
YR took note of PGH creating a Guinness World Record of planning one million trees as part of its "Trees for All" program. Saplings are raised in Isha nurseries with people's participation, and distributed to anyone who commits to plant and nurture them.
Isha Foundation is also very active in rural education through its Isha Vidya initiative. Recent record indicates Isha running 9 Rural Schools in Tamil Nadu and Andhra Pradesh, with 5820 children – 58% of them on full scholarship and the rest on subsidized fees. It also does critical interventions in 40 rural government schools in Tamil Nadu benefitting 28000 children.
Experts believe that practicing yoga transforms people and connects them to the earth at a deeper level. Surveys suggest yoga practitioners turn out to become sustainability champions both at home, workplace and society.
Isha Foundation, through its 'Inner Engineering' program has transformed millions of people. Isha Foundation is both a spiritual and a sustainability leader.