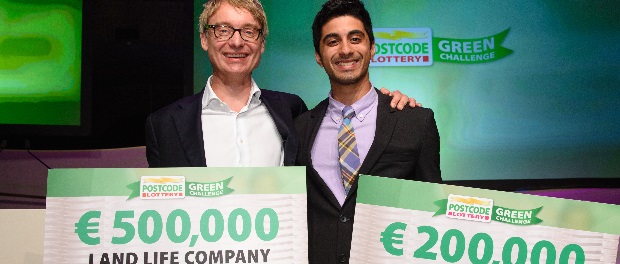 Jurriaan Ruys' of Land Life Company &
Ryan Pandya of Muufri.
Jurriaan Ruys' Land Life Company has developed a unique, fully functional product to grow trees in dryland environments. COCOON is 100% biodegradable, highly water efficient, low-cost, low capital and highly scalable having high survival rates, growth rates and vigor.
Dryland (45% of earths land surface) afforestation efforts hold a key of global significance. Many dryland soils have been degraded (deforestation and mismanagement), implying that they are far from saturated with carbon. The potential for long-term soil carbon restoration is very high.
Ruys received the 2015 first prize PostCode Lottery Green Challenge, a Dutch award for innovation in sustainable products. This is considered the most sought after award by those developing sustainable products.
With their award, the company will be implementing large scale restoration projects in California, Mexico and Spain. It has shown that it is possible to grow olive, walnut and almond trees in arid land. The company has demonstrated in a 10 hectare land north of Riyadh that it is possible to grow trees like Acacia and Moringa without irrigation and survival rate of more than 70%.
Benefits of the COCOON technology
No maintenance or irrigation needed after planting
The case material in which the seeds are planted are biodegradable
Focus is on growing strong roots first
10x lower cost, 10x higher survival and 10x less water
Merges ancient irrigation techniques with patented technologies
Can grow fruit trees in dry land
See how Cocoon, a product of Land Life Company, grows trees in Saudi Arabian desert.
Watch: http://www.greenchallenge.info/index.php/competition/nominees/233-jurriaan-ruys-land-life-company