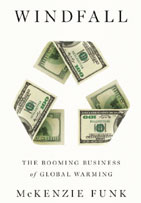 By McKenzie Funk Penguin Press HC, 2014 (An Amazon Best Book of the Month, January 2014)
In addition to having one of the cooler author names, Funk has written one of the more fascinating accounts of the coming economic impact of climate change. Rather than exploring the science or politics of an alarmingly warming world (a la An Inconvenient Truth), the author has focused exclusively on the economics and opportunism developing around climate change. The result is part eco-thriller, part adventure story, part investigative exposé. There's a wildly speculative and entrepreneurial game being played out there by some forward-thinking risk takers. Not a hand-wringer among them, these are the gamblers who see profit where others see doom.
Impressively researched over six years, Windfall takes us to the front lines: to the deck of a Canadian battleship, where the author blasts a machine gun into the ice cap; to formerly frozen Siberian lands, which investors envision as future mega-farms; to the Sudan, Greenland, Wall Street, and beyond. Like a mashup of Michael Lewis and Mark Twain, Funk is an intrepid investigator and a lively, smart writer. From eco hedge funds to dam building to desalination plants, he shows how climate change is creating new opportunities and a potential boon for cowboy entrepreneurs. This is the rare book that's both important and highly readable.