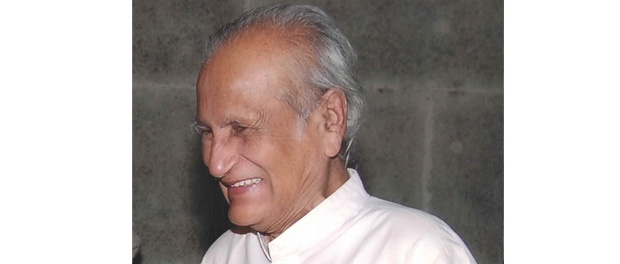 Ignatius Loyola often ended his letters to Jesuits going to the missions with the expression ite, inflammate omnia—"Go, set the world on fire." What did he mean by that? Jim Manney, the author of A Simple, Life-changing Prayer, and a well-known scholar on Ignatian spirituality, believes Ignatius Loyola, founder of the order Society of Jesus, wanted everyone to be set afire with passion and zeal for the Kingdom of God. And by the Kingdom of God, he says, he meant a just and an equal society.
A good look at Fr. Claude's life of 87 years showed that his mission was to set the system that had spawned massive deprivation of the poor aglow so that there could be sparks of radical change in the social and economic order. He lit the hearts and minds of thousands of men and women to go out into the real world and influence change. He mentored hundreds of social activists to multiply their impact in everything they set out to do.
Fr. Claude was a revolutionary at heart but he knew slow and gradual change would yield more consistent results rather than a violent and radical battle. His leadership style was transformative and facilitative.
He knew how to galvanize organizations to aspire to achieve their missions. As the new Director of AICUF (All India Catholic Universities Federations) between 1991 and 1997, he helped launch Project Know India – social action and conscience building effort among the students in hundreds of schools. This was with the belief that if it was difficult to change the present it is possible to influence the future.
Fr. Claude got an opportunity to experiment and also drive ideas such as cluster schools initiative which were meant to help achieve efficiency in utilizing resources and also that students don't have to travel too far as they moved up classes.
Kalvi Kendra was Fr. Claude's project to alleviate hardships of the Dalits in parts of Chennai in the early 80s. It has now grown stronger and works across the development spectrum.
He also started the Centre for Non-formal Education in Ashirvad – a pioneering effort at imparting literacy to poor adults so that they could become influencers of change in their workplaces and at homes in Bengaluru.
Fight with Data on Hand
He believed in the power of data to help decision making and for learning. At Ashirvad, he spent a lot of time and effort in data collection and documentation about social and economic indicators of 28 districts of Karnataka. At AICUF too he had set up a documentation centre.
Fr. Claude had a long stint in Bijapur – a naturally rich but economically backward district in Karnataka. Although his role was that of a parish priest, he couldn't resist his urge to actively work with several local NGOs. One of them worked very hard with the Devadasi community. The NGO helped produce several graduates and engineers in a span of a decade.
He was able to source talent easily wherever he went because of his clarity in what he looked for – CAT – committed, available and teachable (not talented). His non-effusive personality endeared him to everyone. Yet, he was firm where tough decisions were needed.
Did Fr. Claude die a happy man? May not be considering that the problems he set out to address still persist in good measure. But the serenity on his face during the last few weeks of his life showed he was at peace with himself for having given his best.
Also Read
https://newint.org/features/2018/08/13/most-extraordinary-man