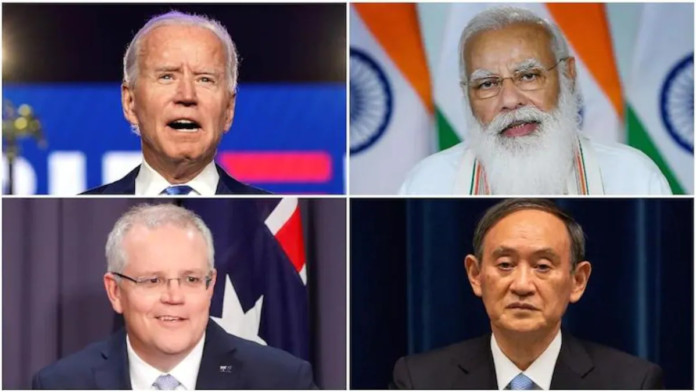 On September 24, 2021, US President Joe Biden hosted Prime Minister Narendra Modi, Prime Minister Scott Morrison of Australia, and Prime Minister Yoshihide Suga of Japan at the White House for the first-ever in-person Leaders' Summit of the Quad. Among the many areas they agreed to work together, the one on addressing climate change at speed and scale is significant. They agreed to form a Green Shipping Network, establish a Green Hydrogen Partnership and enhance Climate Adaptation, Resilience, and Preparedness.
To address the climate crisis with the urgency it demands, Quad countries have agreed to focus their efforts on the themes of climate ambition, including working on 2030 targets for national emissions and renewable energy, clean-energy innovation and deployment, as well as adaptation, resilience, and preparedness.
Quad countries commit to pursue enhanced actions in the 2020s to meet anticipated energy demand and decarbonize at pace and scale to keep our climate goals within reach in the Indo-Pacific. Additional efforts include working together on methane abatement in the natural-gas sector and on establishing responsible and resilient clean-energy supply chains.
Green Shipping Network
Quad countries represent major maritime shipping hubs with some of the largest ports in the world. As a result, Quad countries are uniquely situated to deploy green-port infrastructure and clean-bunkering fuels at scale. Quad partners will organize their work by launching a Quad Shipping Taskforce and will invite leading ports, including Los Angeles, Mumbai Port Trust, Sydney (Botany), and Yokohama, to form a network dedicated to greening and decarbonizing the shipping value chain. The Quad Shipping Task Force will organize its work around several lines of efforts and aims to establish two to three Quad low-emission or zero-emission shipping corridors by 2030.
Clean-Hydrogen Partnership:
The Quad announced a clean-hydrogen partnership to strengthen and reduce costs across all elements of the clean-hydrogen value chain, leveraging existing bilateral and multilateral hydrogen initiatives in other fora. This includes technology development and efficiently scaling up the production of clean hydrogen (hydrogen produced from renewable energy, fossil fuels with carbon capture and sequestration, and nuclear for those who choose to deploy it).
It also includes identification and development of delivery infrastructure to safely and efficiently transport, store, and distribute clean hydrogen for end-use applications, and stimulating market demand to accelerate trade in clean hydrogen in the Indo-Pacific region.
Enhance Climate Adaptation, Resilience, and Preparedness Quad countries commit to increasing the Indo-Pacific region's resilience to climate change by improving critical climate information-sharing and disaster-resilient infrastructure. The Quad countries have agreed to convene a Climate & Information Services Task Force and build a new technical facility through the Coalition for Disaster Resilient Infrastructure that will provide technical assistance in small island developing states.