Sustainable Environment and Ecological Development Society (SEEDS) has onboarded 11 grassroots organizations to pivot its 'climate resilience through innovation' campaign. Called 'Flip the Notion', SEEDS, a not-for-profit, showcased their work at an event in New Delhi recently. SEEDS' mission is to strengthen the capacity of these innovators by improving and developing their impact parameters.
Equipping the vulnerable to be more resilient to climate episodes, Dr. Manu Gupta, Co-Founder, of SEEDS, says has led them to identify 225 hotspots in India by 2030. The plan is to build a hyper-local resilience eco-system reaching – 315 million lives. SEEDS functions through all stakeholders like communities, governments, and change agents across the disaster lifecycle – response, relief, recovery, rehabilitation, mitigation, and preparedness.
In its three-decade existence, SEEDS has responded to more than 45 disasters and built about 100 schools, 60,000 homes, 25 healthcare facilities and 110 sanitation units. These are executed through people-led programs.
SEED has trained a million learners through its Gurukul Programs. The 11 innovators have executed intervention programs in Kashmir, West Bengal, Bihar, Tamil Nadu, Odisha, Kerala, Uttarakhand, Ladakh, Rajasthan, Delhi amongst other cities. They will have access to best practices, communication materials and developmental programs and help in making infrastructure resilient to natural disasters.
SEEDS is India's first agency to be certified for the global core humanitarian standards – an international certification system for quality and accountability in humanitarian response and is recognized for its 30 years of service in disaster and environment by the United Nations Sasakawa Award in 2022 and Government of India Subhash Chandra Bose Aapda Prabandhan Award in 2021.
A SEEDS press note notes that it has worked with more than 500 communities, and offered emergency assistance to more than 830,000 people. It has positively impacted the lives of more than six million people by re-anchoring its approach to building resilience through innovation.
AI Solution with Microsoft to be Disaster-ready
SEEDS, in collaboration with Microsoft and technology partner Gramener, has developed "Sunny Lives", an AI model that bridges this gap so that communities can be better prepared, and governments can plan better at a local scale. The model, which has been developed under Microsoft's global program 'AI for Humanitarian Action', processes large volumes of data to provide risk information at a hyper-local (building cluster) level.
With the underlying principle that the roof condition of a building says a lot about the condition of the house, the model uses high-resolution satellite imagery to detect and assign risk scores to buildings according to their roof types. Other location and hazard-specific attributes are also used in calculating the risk scores.
The model was piloted for risk assessment of cyclone-induced flooding during cyclone Nivar and cyclone Burevi in 2020 and showcased promising results. In 2021, it scaled the dissemination to reach out to over 50,000 families vulnerable to heatwaves (Delhi and Nagpur), cyclones (parts of Odisha and Gujarat) and monsoon flooding (Puri and Mumbai).
a
Sustainable Fisheries & Resilient Value Chains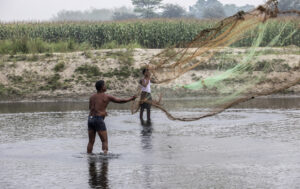 In response to the adverse effects of floods on the livelihoods of people from North Bihar, the Centre for Aquatic Livelihood Jaljeevika, a non-profit organization, initiated a project in Purnia, Bihar. The goal of this initiative is to build resilience to climate change within fisheries and aquaculture communities.
The Centre for Aquatic Livelihood Jaljeevika received a grant from the START Network.
Disaster Preparedness & Marine Conservation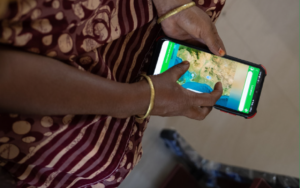 OMCAR Foundation aims to conserve the Palk Bay ecosystem through participatory marine resource management. They do this by raising community awareness about nature conservation, enhancing community engagement in conservation efforts, and conducting research on coastal resource management.
OMCAR Foundation received a grant from the START Network.
Inclusivity & Safety For All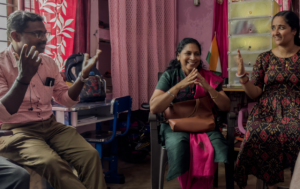 The Foundation for Development Action (FDA) began with a focus on disaster risk reduction, school and child safety, rehabilitation of children who have experienced sexual abuse, and disaster response activities. They have developed a novel module to train first responders to aid people with disabilities, keeping their unique needs in mind. This training also extends to civil defence personnel, who play a major role in rescue operations during disasters.
FDA received a grant from the START Network.
Climate Change Adaptation & Livelihood Security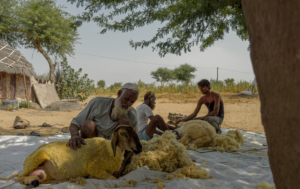 Privately managed Common Facility Centres (CFCs) set up by Urmul Seemant Samiti provide a package of basic support services of drinking water, fodder plantation, vaccination camp and a marketplace for transhumant pastoralists in two villages of Jodhpur district, Rajasthan in western India. These services will increase their resilience to climate shocks and stresses.
Urmul Seemant Samiti (USS) received a grant from the Humanitarian Innovation Fund (HIF) – Elrha.
Sustainable Financing & Livelihood Security
Promoting resilient livelihoods for the LGBTQIA+ group and other tourism Micro, Small and Medium Enterprises (MSMEs) affected by recurring disasters through a cooperative model to enabling sustainable tourism practices in Puri, Odisha.
SPANDAN received a grant from the START Network.
Digital Literacy & Community Storytelling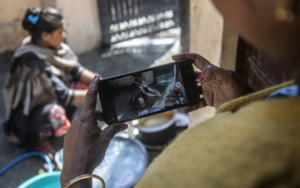 Sensitizing students and teachers in 100 schools about disaster risk management by performing Ladishah, a traditional folk musical genre to address the issue of school safety in Jammu and Kashmir in northern India.
Words. Rhythms. Images received a grant from the START Network.
Indigenous Knowledge & Water Security
Artificial glaciers are a simple technique to maximise water harvesting. With new advances in technology, the team are advancing the development of artificial glaciers to help tackle water security issues for semi-nomadic communities in Changthang, Ladakh, in northern India.
Leh Nutrition Project (LNP) received a grant from the Humanitarian Innovation Fund (HIF) – Elrha.
Vernacular Architecture & Resilient Structures
The Dighir Ganguly Foundation works with the Munda community in the Sundarbans to construct specially designed structures that are resistant to the disasters in the area. The Foundation's core area of work involves drawing on the traditional architecture of the area to build hospitals and schools.
The Dighir Ganguly Foundation received a grant from the START Network.
Sustainable Materials & Beating Heat Waves
IGSSS is increasing resilience in the face of increasing heat waves within urban communities through the installation of agri-bio panels and insulators for 30 households in informal settlements in the capital city of Delhi.
Indo-Global Social Service Society (IGSSS) received a grant from the Humanitarian Innovation Fund (HIF) – Elrha.
Women Leaders & Grassroots Climate Action
The project aims to mitigate the disproportionate impact of heat stress in urban settlements in Bhopal, Madhya Pradesh. Local women leaders are developing a community-driven climate action plan that identifies household, settlement, and city scale innovations.
Mahila Housing SEWA Trust (MHT) received a grant from the Humanitarian Innovation Fund (HIF) – Elrha.
School Safety & Creative Dissemination
ELFA has been sensitizing students and teachers in 100 schools to disaster risk management and school safety through Ladishah performances. Ladishah is a traditional folk musical genre in Jammu and Kashmir in northern India.
ELFA International received a grant from the START Network.
a