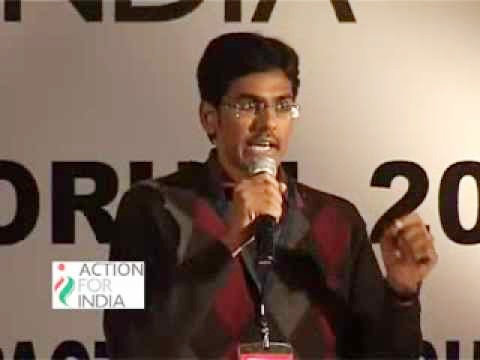 A chance visit to the house of an injured rickshaw puller by a group of BITS Pilani students of the 2005 batch jolted them so much that some of them will soon be impacting more than a million students in their search for a meaningful career.
Chandra Sekhar P, along with ten of his friends at BITS Pilani, are on a mission to transform India from the inside by helping students make informed choice of their careers. Their activism, inspired by Swami Vivekananda and Adbul Kalam, started at the campus itself. They started helping out kids of cooks and gardeners with their studies.
Seeing the huge disconnect between their campus life and that of the people living in abject conditions in the village Pilani, just down the hill, they took a vow to spare their time and energy to contribute.
Chandra today runs a large NGO in Hyderabad with 150 employees. They offer guidance and counselling to students in their 10th and 12th about their career choices as their mission through a high-tech toll free helpline. Their operations have spread to Telangana, Karnataka Assam and Andhra Pradesh. They are gearing themselves up to scaling this facility across India in their next phase of expansion.
Chandra is only 32. He quit his cushy job at JP Morgan in London and took a plunge into social service. It's been 12 years since he did that and is happy with his choice.
Although only one of his original gang is with him now, he has mobilized hundreds of volunteers in campuses of BITS Pilani spread across the country. Also, his close network with the alumni is helping him with funds as well.
STUDENT LEADERSHIP
Nirmaan focuses on education, skilling and student leadership. Their flagship program is called Vidya Helpline. It offers free career counselling to students especially in the rural areas in local languages.
"We want to solve two major problems faced by students – lack of information about career choices in rural areas. Second,  help students follow their passion while they choose their career," Chandra said while chatting with Benedict Paramanand, Editor of SustainabilityNext on the sidelines of the Hubballi Development Dialogue early February 2019.
Nirmaan uses the 'Panchamantra' tool to help students choose their career path.
It also identifies exceptional students and offers them unique experiences like corporate campus tours and to talks like the TED talks. "It's meant for building their capacity to achieve what they aspire to become. Education should be a means for doing good work."
"In 13 years we have impacted 5.5 lakh students and this year we are going to work with AP government – providing life-skills and guidance to 7.5 lakh students across AP," Chandra shared excitedly. "We will act like knowledge partners to these students."
KEY LEARNINGS OF A SOCIAL ENTREPRENEUR
"None of us have had any background in the social sector. We learnt our lessons the hard way, but we feel balanced now," Chandra says musing about his journey. He is happy to share his team's experience so that other NGOs and social entrepreneurs could learn from it.
Focus on the demand for a service, not what you want to offer.
Constant need for evolving ourselves with new knowledge, network and very open to feedback.
If we do some experiment and fail, it is absolutely fine.
Build second and third level leadership.
At no point organizations should be run by individuals. It should be run by systems.
Diversify funding source. Nirmaan's funds come from nearly a third each from the governments, CSR and from foundations.
Working with government gets easy if you go with the attitude of also giving, not always wanting to take.