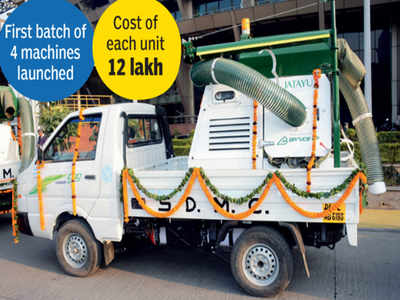 In Delhi road dust contributes to more than half of the total PM10 particles (particulate matter ≤ 10 micrometer in diameter) and about 38 percent of PM2.5 particles (particulate matter ≤ 2.5 micrometer in diameter). Both PM10 and PM2.5 enter human body through respiratory track, PM2.5 reaches the alveoli region and deposits deep within the lungs, irritating and corroding the alveolar wall, and may even enter the blood stream, triggering health effects including, cardiovascular and respiratory illness and even premature death. With winters in Delhi, the ambient lapse rate become less than the adiabatic lapse rate leading to inversion conditions, specifically on early morning /non-Sunshine days, accelerating the health effects due to particulate matter pollution.
To reduce the impacts of dust there can be two possible remedies. First, afforestation in Rajasthan-Gujarat Corridor and second, mechanized road sweeping operations to curb road dust out of Delhi's air environment.
It is imperative to note that large-scale afforestation in Rajasthan-Gujarat corridor has the potential to enhance precipitation in the Delhi-NCR belt, thereby curbing soil erosion and restraining the dust loads blowing from the region to Delhi-NCR. Afforestation will also capture carbon emission and help in achieving India's Nationally Determined Contributions (NDC).
In addition, at Delhi it is equally important to change the ongoing practices of road sweeping and road dust collection and adopt the mechanical road sweeping (MRS) operations. At present the road dust swept manually leads to suspension of fine particulate matters and vehicular movement further suspends accumulated but not collected road dust, thus making the sweeping operations ineffective. The only way to remove fine dusts from roads is through MRS operations, which have a vacuum and sprinkler arrangement to suppress and remove dust loads from roads of Delhi.
Table 1: Status of MRS machines in Delhi
| Urban Local Body | Number of MRS Machines | Operating shifts per day |
| --- | --- | --- |
| South Delhi Municipal Corporation | 18 | One |
| North Delhi Municipal Corporation | 12 | One |
| New Delhi Municipal Corporation | 09 | One/Two |
| East Delhi Municipal Corporation | 09 | One |
The Energy and Resources Institute (TERI) has been assisting South Delhi Municipal Corporation (SDMC) and North Delhi Municipal Corporation (North DMC) in streamlining the MRS operations and increasing the effectiveness of these machines through continuous independent assessments based on statistical analysis approach. The findings of the study revealed; on an average (August – December) SDMC sweeps about 13.78 Km/shift/MRS vehicle in about 3.55hrs and North DMC sweeps about 29.4 km/shift/MRS vehicle in about 4.89hrs under an 8 hrs working shift.
There is an urgent need to increase the sweeping time and distance per shift in both the corporations and reach up to 50 km/shift/MRS vehicle with two shifts per day operation to make MRS operations economically viable and adhere the Central Public Health and Environmental Engineering Organization (CPHEEO) guidelines.
Further, effective planning in terms of operation and maintenance along with appropriate Monitoring reporting and verification can help in enhancing the effectiveness of these machines and reduce particulate matter pollution from Delhi's air environment. Delhi government should soon deploy more such machines to reduce air pollution in Delhi.