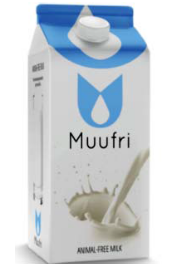 A US-based company founded by a group of Indian-origin entrepreneurs, which produces artificial milk, has won a Dutch sustainability innovation prize of 200,000 euros.
An international jury chaired by Steve Howard, Chief Sustainability Officer at multinational IKEA Group, awarded Ryan Pandya of Silicon Valley startup Muufri the runner-up prize of the Postcode Lottery Green Challenge 2015. It is said to be the largest annual international competition in the field of sustainability innovation.
Muufri has identified the proteins, fats, vitamins and minerals in milk and is developing a blending process that has the potential to eliminate as high as 65% of greenhouse gas emissions generated by commercial dairy farming.
The biotech startup was founded in 2014 by bio-engineers Ryan Pandya, Perumal Gandhi and Isha Datar.
Milk from Breweries
Ryan Pandya says Muufri is creating a future where milk comes from breweries rather than factory farms. We've identified the key components of all dairy products — the proteins, fats, vitamins and minerals that lead to great flavor, unparalleled nutrition and culinary function ranging from cheeses to yogurts to ice creams – and we're assembling the milk of the future by combining these components in exact ratios optimized for human health. There are no animals involved, so our process is highly efficient and low cost without compromising on the great taste we all love. Muufri's innovative platform is revolutionizing the food system!
 https://prezi.com/dbkiyi7ftnkl/new-harvest-dairy-project/