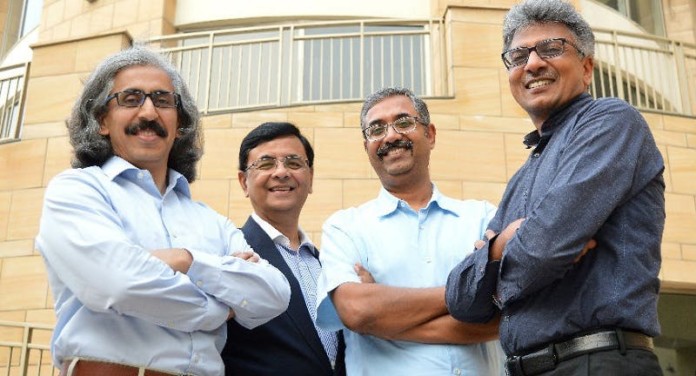 Venture capitalists world over are increasingly being seen as necessary evil rather than as dependable partners. Founders' paycheck on exit is often a joke while VCs seem to make a killing. Their advise and expertise are often found to be over rated.
The Hustle quotes Vinod Khosla, founder of Khosla Ventures, saying most VCs "haven't done sh*t" to help startups through difficult times, and he estimated that "70% to 80% percent [of VCs] add negative value to a startup in their advising."
Founders of YourNest Sunil K Goyal, Sanjay Pande, Girish Shivani and partner Dr. Vivek Mansingh seem to be more than aware of this sentiment. They deliberately use terms such as 'nurture capital', 'conscious capital' instead of the cold sounding venture capital in their vocabulary.
YourNest was founded in 2012 to invest in pre series A start-ups in internet of things (IoT), robotics, electronic system design, artificial intelligence, machine learning and block chain. Its first fund of $15 million is committed to 16 companies and has raised Rs. 300 crore in its second round called YourNest India VC Fund II.  Its revenue from 19 portfolio companies grew two times and is poised for 40% IRR growth. It's been rated as one of the top ten funds out of India based on returns given to investors.
B2B and Deep-Tech – India's Big Opportunity
There's been a lot of positive buzz about deep tech related start-ups in India in the last five years. India has made a strong push to becoming a product nation after a successful run with delivering service solutions to the global market.
Sunil Goyal, MD at YourNest, says India's artificial intelligence (AI) product growth rate is a healthy 75%, multiple times more than e-commerce growth rates. IP led companies are booming with good fund flow from the government.
Interestingly, Sunil says, out of 4,000 deals reaching YourNest a year, 65% deal flow is from B2B and 35% is from deep tech, indicating a clear trend which the VC hopes to capitalize on.
One of his portfolio companies, Chennai-based Uniphore Software Systems, a maker of speech-recognition software, is said to be on-road to becoming a unicorn. Sanjay strongly believes three more could be headed that route. Emotix is India's first companion robot capable of engaging, educating and entertaining children above 5 years.
KaHa Pte Ltd makes end-to-end IoT wearable platform. It's meant to be a one-stop solution for large brands for introducing smart-wearables to their customers.
The third one is Arya.ai – an AI startup that is building artificial general intelligence to make information retrieval simple and easy. Unlike Google that lists the URLs on the basis of keywords or IBM Watson that offers predefined thinking, Arya uses Neural Networks that mimics the brain and learns continuously and adapts to the user perspective.
Dr. Vivek Mansingh, partner at YourNest says "We help our founders succeed with nurture capital." YourNext's team, he says, has deep technical, talent and business expertise to nurture deep tech startups. "That's why we believe we are not just riding this wave but creating this wave."
India today has only 10% of its B2B startups focusing on deep tech space compared to 30% in the United States and Israel and 20% in China. He says there's a big scope for India to raise this percentage.
For this to happen, Dr. Mansingh believes Indian young tech entrepreneurs need deep mentoring and nurturing as their exposure to the complexity of global market is nearly non-existent. Speaking to SustainabilityNext, he says: "Indian deep tech startups need to think global from day one considering its under developed domestic market and VCs have more than a funding or advisory role. Unlike other VCs I get into deep aspects with entrepreneurs and spend days to guide them through."
Sanjay Pande brings the non-tech elements to nurture capital at YourNest. He says, his task is identifying promising entrepreneurial teams with disruptive ideas and guiding them to their full potential. Experience of being a behavioral trainer comes in handy.
Should YourNext obsess about trying to build only unicorns or should it also invest in several potentially $100 million valuation startups? Sunil Goyal agrees India needs hundreds of $100 million firms but "it's important to build aspirations to becoming unicorns right in the beginning."
It would be interesting to watch how YourNest's nurture capital plays out in the coming years.