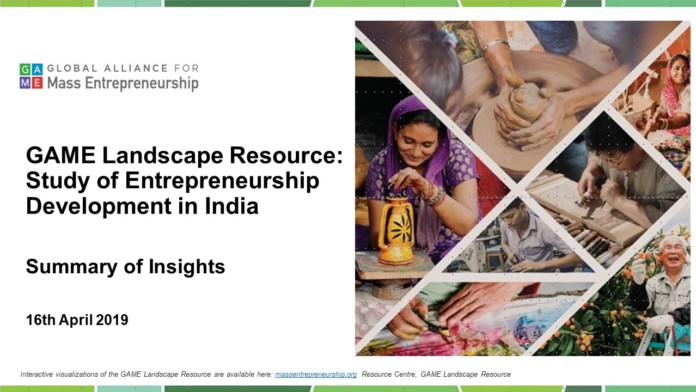 A pioneering study on building and nurturing mass entrepreneurship has highlighted the need to nurture an entrepreneurial mindset at an early stage of their development among the youth. This is one of the few pointed findings of the first-of-its-kind study titled 'GAME Landscape Resource: Study of Entrepreneurship Development in India' recently.
Global Alliance for Mass Entrepreneurship (GAME) is a comprehensive open-source resource on Mass Entrepreneurship development in India. The purpose of this study, the authors say, is "to survey the existing landscape and make it publicly available to all stakeholders of the ecosystem to enable conversations, collaborations and catalyze further development."
Launching this resource, Mekin Maheshwari, Co-Founder, GAME, said, "The GAME Landscape Resource aims to build awareness and provide timely intervention through suggestive measures. Among several significant insights, the resource highlights key takeaways such as the need for a common platform to enable collaboration among stakeholders, harness the Government's involvement for success at scale and most importantly – the need to nurture an entrepreneurial mindset at an early stage among our youth."
Some of the key points distilled from the study are:
Karnataka and Maharashtra showed the most projects, while the north-east and J&K showed the least.
Very few organizations reported a payment-based funding model
Nano/micro-entrepreneurs prefer stability over scale
Right types & sources of funding is the most reported systemic challenge
Government collaborations, and funding for capacity-building are the most reported needs
Very few organizations focus specifically on needs of urban areas
More organizations reported an intent to 'deepen' their impact in current areas than to go 'broader'
Most entrepreneurship development programs focus on supply-side interventions such as technical skills; very few devoted to infrastructure, regulatory/compliance advocacy, etc.
Ravi Venkatesan, former chairman of Microsoft India, is a co-founder of the GAME. GAME aspires to create 10 million local entrepreneurs in India and Africa by 2030.