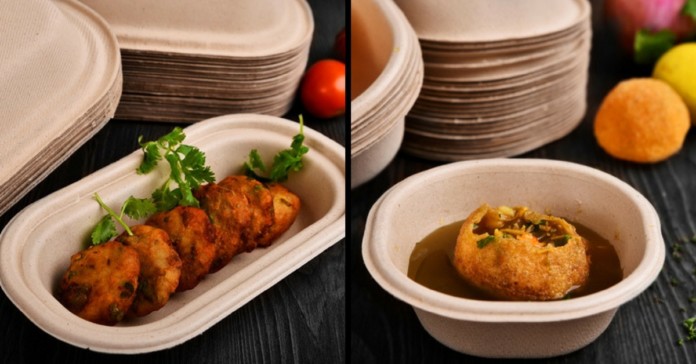 CHUK's tableware decompose in 90 days what would otherwise take about 500 years.
CHUK is a backyard compostable tableware providing brand owned by Ayodhya-based Yash Papers. It has initiated a mass movement of providing compostable tableware products to the global market.
The product was conceptualised in 2014 with the vision of eliminating single-use plastic. The plant was commissioned in 2016 with Rs. 60 crore investment and was launched in 2017. It has already won many awards like the CII Design Excellence Awards 2017, The Indian Design Mark 2018 by Indian Design Council and The Red Dot award 2018, for our exemplary work on tableware products.
Excerpts of a chat with Ved Krishna, Vice Chairman and Strategy Head, Yash Papers, with Benedict Paramanand, Editor of SustainabilityNext
What's special about your tableware?
These products are made from sugarcane fiber and turn into manure after disposal. It's completely safe for marine life and human consumption. It's the only player in India, which controls the entire chain from manufacturing to finished products and also supplies raw material to most other manufacturers of bio-degradable products. CHUK is the only 'pulp-to-product' brand in the world for compostable tableware.
What's the production capacity?
We have the world's fastest, biggest and fully automatic machines producing around one million pieces per day while the plant's capacity is 6.5 lakh pieces per day. We utilize 11.5 MT of pulp on a daily basis at full capacity.
The products vary from bowls of 180 and 250 ml, plates of 7, 9 and 11 inches, containers of 500 and 750 ml, trays of 4 and 5 compartments and lids for containers and trays.
Plans for launch in India
We plan to reach out to the entire country. We have already tied up with leading food joints like Haldirams, Lite Bite Foods, Chai Point, Baskin Robbins to name a few. We have also tied up with Indian Railways in its drive to go green, food joints under Devyani Food industries at airports and with Uttarakhand government for its Kedarnath Chaar Dham Yatra. We are now in 21 cities and expanding.
How are the products priced?
In the B2B segment, CHUK is priced from Rs. 1 to 7. In the retail segment, the products are priced slightly higher. Though we need to make up for the production costs incurred but we are still at an affordable rate. It will take some time to move the cost conscious Styrofoam users to biodegradable tableware. They need to be made aware that Styrofoam usage might help them in saving some cost immediately but in the longer run they are unsafe.
What's your campaign strategy like?
We are in an economy that is presently not focused on seeing the damage carcinogenic products cause. We would however continue to work on convincing through our campaign. We want to work with governments to build more awareness amongst the masses.
CHUK is initially focusing on the B2B segment but has been overwhelmed by the demand from individual consumers. Its products have now been launched in retail packs and available on Amazon.
Impact so far
22.5 million people ate safely in 2018. 308 tonnes of plastic didn't go to the landfill.
What's the technology used in converting garbage into usable products?
After studying the food consumption patterns in our country extensively, we are creating modular designs which are bio-degradable and consumer friendly. The products are like Lego pieces which can fit into any form of tableware. We have also worked on a rapid development cycle for products based on 3D printing and quick tooling.
The products are made from sugarcane leftover fiber which is then converted into pulp. The resulting material is a mix of pulp and water which is fed to the machines to be moulded into the multiple range of tableware products with the help of steam. We use custom-designed machines, which have customised moulds for bowls, containers, plates and trays. The lids are made from corrugated material since we do not use plastic or packaging.
CHUK has kept its tableware products untreated with any kind of chemicals. While Styrofoam tableware products are white due to chemical treatment, CHUK's tableware products are brown coloured as they completely chemical free.