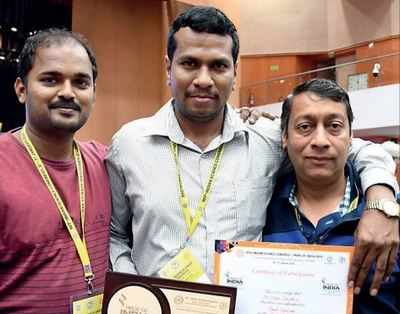 JK Solutions won the 'Best Startup of Pride of India Expo' award at Indian Science Congress 2020 for their Nano solution that can treat 1,000-2,000 liters of wastewater a day.
TOI reported that in 2011, lakhs of textile workers in Tamil Nadu lost their jobs following a Supreme Court order shutting down factories for discharging effluents into rivers. The water pollution that pushed lakhs of people into joblessness inspired scientists Dr SCG Kiruba Daniel, Suthanthira Daniel and their colleagues to find a solution to stop the hazard at the source at a lower cost and with lesser effort.
Nanosolution, the brainchild of their venture JK Solutions, was launched in Bengaluru in 2017 and incubated at IISc.
Nanosolution consists of metal nanoclusters. When introduced in polluted water it draws foreign particles and sinks to the bottom as organic sludge. The founders say this method recovers 98% of water.
Bengaluru's public transport company BMTC and three dhobi ghats now use this solution to treat and recycle 1.5 lakh litres of wastewater a day.
The paper quotes Daniel saying that one litre of the solution can treat 1,000 to 2,000 litres of wastewater. He said the treatment costs up to Rs 1.30 per litre, one-tenth of the regular cleaning cost. JK Solutions said it has treated over 10 million litres of water for reuse since its inception.